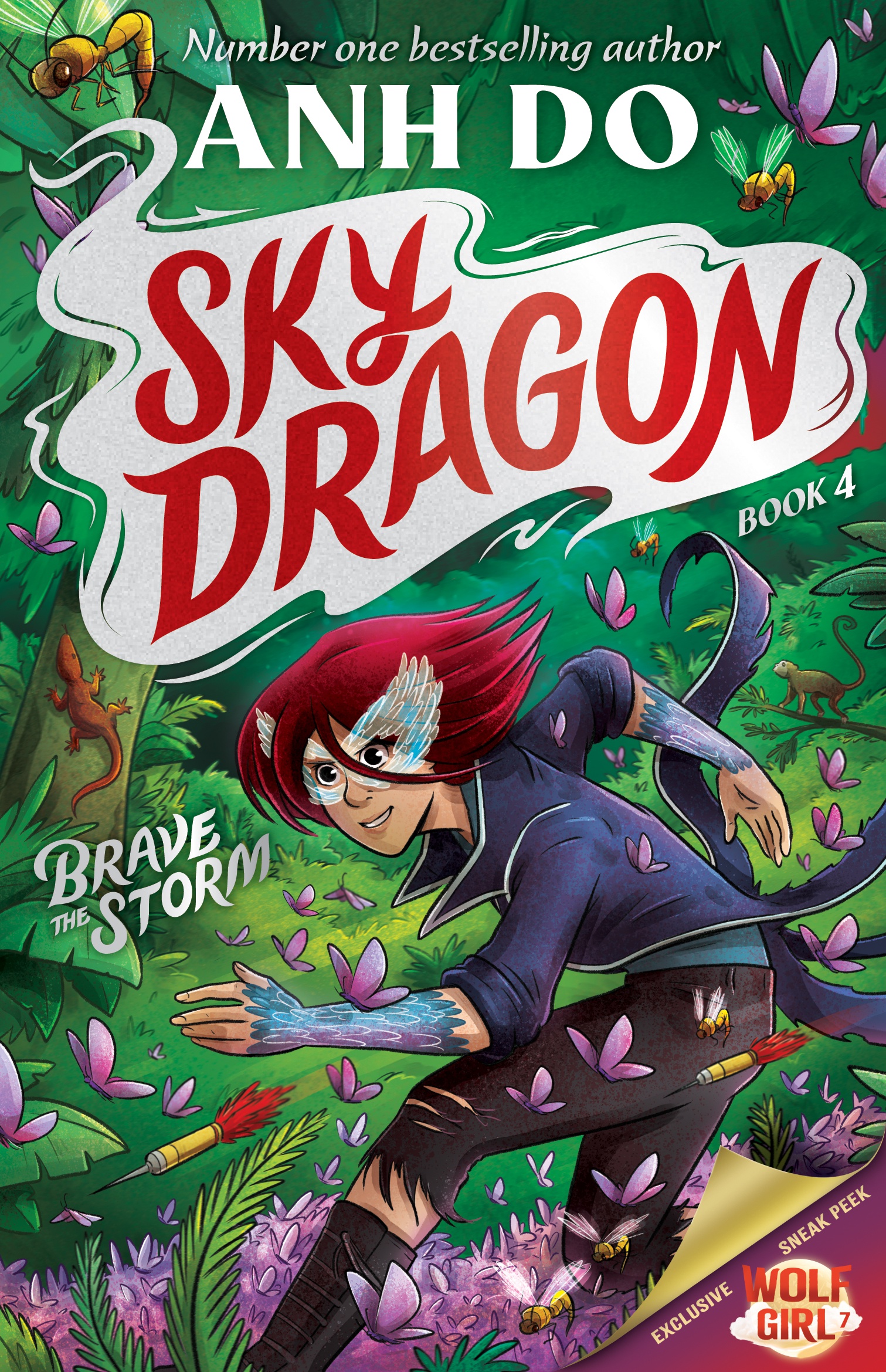 Skydragon: Brave the Storm #4
By Ahn Do
Illustrated by James Hart
Reviewed by Sarah Custance
Australian author Anh Do has topped the bestselling charts again and again with his series for both younger readers and now his middle-grade aimed series. Sky Dragon: Brave the Storm is the 4th book in the Sky Dragon series. Along with the series of Wolf Girl, E-Boy, and Rise of the Mythix, Anh Do has truly made himself a permanent fixture in middle-grade novels.
After her hectic fight with villain Money Man, Amber is left with a concussion that has left her weak and, worst of all, without her powers! Not only can she no longer command insects at her will, she can't even sense them anymore. As Amber struggles to figure out who she is without her powers, her guardian Irene suggests immersing herself in the wilderness of Sennam to see if being wholly surrounded by nature and insects might bring back her powers. When the two arrive they learn that a legend of an ancient cave filled with gems has caught the interest of the large and dangerous EverCorp, who will stop at nothing to get their hands on the gems. Soon Amber joins forces with a local tribe to try and stop EverCorp from discovering the sacred cave, but without her insect powers, what help can Amber be? Can Amber escape capture, poisoned darts, robot henchmen, and help her new friends all without being Skydragon, or will it prove too much for just one 'normal' girl?
Throughout all of Anh Do's middle-grade series, there seems to be quite a repetition of predictable storylines with just a change of scenery per book. Having said that, I was happily surprised to see that Brave the Storm (while still fairly predictable) does have a lot of original content that felt like a good shake up for the series. This book should not be read as a standalone, you need to have read the first 3 books before this one or the reader will be completely lost as little to no backstory is given. As always, the large, black and white illustrations by James Hart are a crucial element of the book that helps to bind the story together and further immerse the reader into the book's world.
If your younger reader has enjoyed Anh Do's other middle-grade novels and the previous Sky Dragon books then Brave the Storm will be a happy addition to their reading lists.