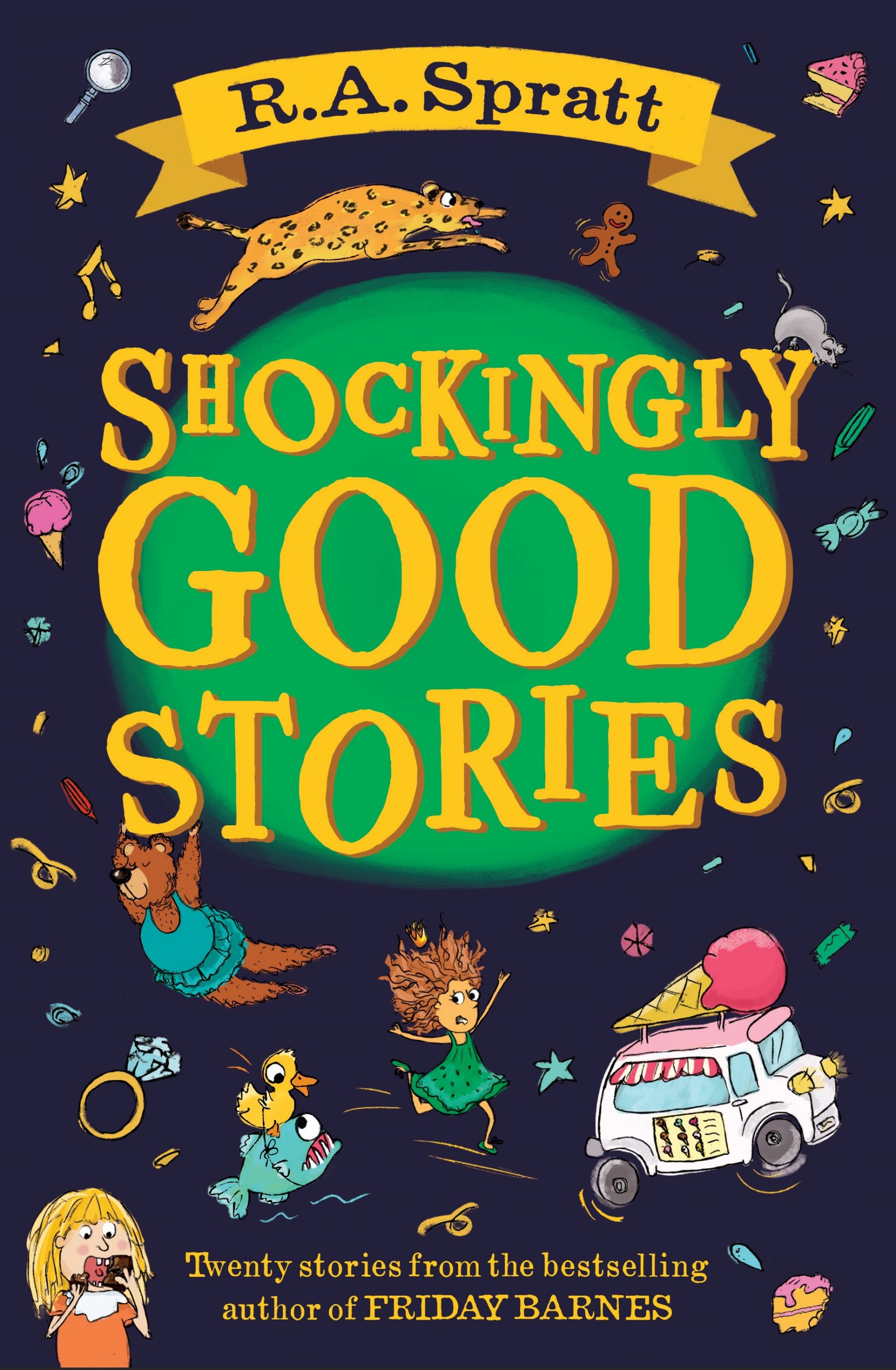 Shockingly Good Stories
By R. A. Spratt
Reviewed by Annaleise Byrd
A. Spratt is the NSW-based author of the hilarious middle grade series Nanny Piggins, Friday Barnes and The Peski Kids. She also launched a popular podcast, 'Bedtime Stories with R. A. Spratt', in early 2020.
Shockingly Good Stories features twenty short stories. More than half take the format of Nanny Piggins—an over-the-top, cake-obsessed pig who works as a nanny—regaling her three young charges with stories of her distant relatives… stories that turn out to be classic fairy tales given a porcine twist. In 'Little Red Riding Pig', for example, Nanny Piggins' cousin converts the wolf into a vegetarian by feeding him chocolate cake.
A different font is used for the text of the fairy tales—perhaps to assist those wanting to read them without the many entertaining diversions arising from the children's frequent interruptions of Nanny Piggins' storytelling! (Perhaps she should have followed the advice in one of Spratt's 'Storytelling Tips', which advises giving children toffee to stop them interrupting.)
The remaining stories are a mix of low-stakes mysteries solved by Friday Barnes at school (e.g. 'Friday Barnes and the Case of the Smashed Statue') and far-fetched conversations between a girl called Tammy and her mother while they are out walking or driving (e.g. 'A Tall Tale about Granny… and a Pillow').
Each story is a pleasure to read, with Spratt's trademark wit and silliness out in full force—clever humour that adults will enjoy too. It's easy to see why the back cover refers to Spratt as 'Roald Dahl meets Paul Jennings'. With the foreword advising the book aims to 'spread joy in a challenging time', and suggesting the stories be read aloud in silly voices, this is exactly the type of literary escapism many of us need.
This collection of twenty fun and lighthearted short stories will delight Spratt's existing fans and likely win her many new ones. A follow-up collection, Astonishingly Good Stories, is already on the way!