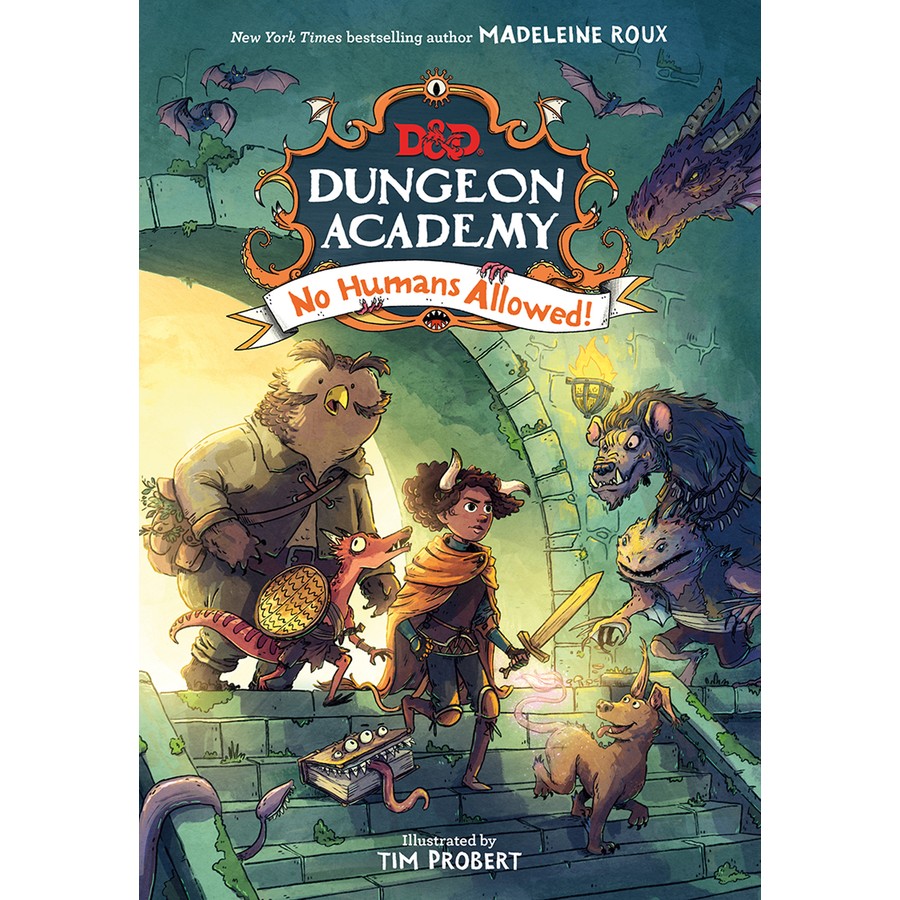 Dungeon Academy: No Humans Allowed!
By Madeleine Roux and illustrated by Tim Probert
Reviewed by Sarah Custance

The roleplaying tabletop game 'Dungeons and Dragons' has been seen monumental success since it's release in 1974. It has recently gained a new fanbase in younger audiences with schools now even using the game to promote interaction and critical thinking. Dungeon Academy: No Humans Allowed!  is a middle grade novel aimed at this new audience but with enough original content from the game to entice even the most seasoned of players.
Dungeon Academy is a school where monsters and creatures learn the skills they'll need to be truly terrifying and dangerous enough to survive within the dungeon walls after graduation. These tough and scary students know only to fear one thing, humans. Even the youngest monster is taught to mistrust, hate, and fear humans. This includes 12-year-old Zelli, who has been raised by her two minotaur mothers, the only catch is that Zelli herself is actually a human! Disguised as a minotaur to all her classmates, Zelli has known no other life than that of the academy, but when she stumbles across a picture of one of the most feared humans alive (who happens to look exactly like Zelli), suddenly her world is flipped upside down.
Embarking on a quest to find her true self, Zelli is joined by an assortment of monstrous misfits like Hugo, a supposedly dreaded owlbear who is a vegetarian that hates violence, a sneaky kobold named Snabla who can't seem to have as much courage as his peers, and a mimic called Bauble who would rather remain in book shape instead of transforming into the terrifying forms that his species requires. When this unlikely group set out on an adventure, they soon realise that they are in above their heads when a nasty necromancer enters the scene. Will they be able to work together to save the day or will their differences push them apart?
If you've ever played Dungeons and Dragons you will have played it as an adventurer, a select few species of creatures that you may choose from such as a human, an elf, a dwarf and so on, but never as a monster. Madeleine has done a brilliant job in turning the tables so that we can see what this well-established world is like from another angle, a different side, the side of the monsters.
With themes of family, friendship, good vs evil, self-discovery, and learning that it is okay to be different, this book will delight both new and old fans. The epic black, white, and orange illustrations by Tim Probert are absolutely worth a mention as well, as they are on almost every other page and help the reader to be more fully engaged with the book and the world that it is set in. Dungeon Academy: No Humans Allowed! is a must-have book for and D&D fan or school library that is using the game in afterschool activities.