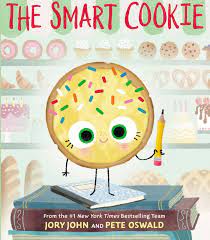 The Smart Cookie
By Jory John and Pete Oswald
Reviewed by Sarah Custance

Picture Book writing team Jory John and Pete Oswald are at it again in their new book The Smart Cookie. This is part of their series of books which include, The Bad Seed, The Good Egg, The Cool Bean, and The Couch Potato.
In The Smart Cookie we follow a young cookie who dreams of being smart. The problem is that the cookie is shy and doesn't like to raise its hand during class for fear of getting the answer wrong. It also has trouble concentrating and is constantly a little scared and worried. So when the class teacher Ms. Biscotti gives the students an assignment to 'create something completely original' and bring it to class, the cookie feels even more down. How are they supposed to create something original all by themselves, by tomorrow! After many failed attempts to create things, the cookie finally thinks of something that only they can do, but will it be enough for them to be considered a 'Smart Cookie'?
This picture book is all about challenging the idea that to be smart automatically means you must be book smart. 'Smart' can take many different forms and use all sort of mediums. Jory John tells the reader that you don't have to be great at everything but it's good to give things a try until you find what you enjoy doing. With the simplistic but animated illustrations by Pete Oswald, it is easy to see what the little cookie is feeling, and you'll be surprised at how expressive one cookie can be! This will be a great picture book to show young children that it's okay to not always be the best at everything and to showcase that everyone is good at different things.