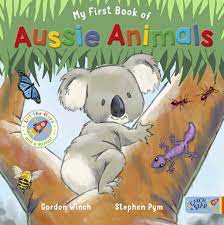 My First Book of Aussie Animals
By Gordon Winch and Stephen Pym
Reviewed by Sarah Custance

My First Book of Aussie Animals is the newest addition to the series of My First Book of's by Gordon Winch and illustrated by Stephen Pym, which follows on from My First Book of Aussie Birds.
This sturdy lift-the-flap board book allows very young children to discover some of the wonderful animals that Australia has to offer. The simple and pointed wording works perfectly with the colourful and sweet illustrations by Stephen Pym. Young children will be drawn to the scenery on each page and the lift-the-flaps that reveal special Australian animals.
This is a book that will be read over and over again. A perfect bedtime read that will delight young audiences and wont drive parents mad. It's format as a board book means that it will be durable enough to take on many adventures and will have a much longer life than a regular picture book. This is a lovely picture book to dive into with your young reader and show them some of the magical menagerie of animals that Australia has.