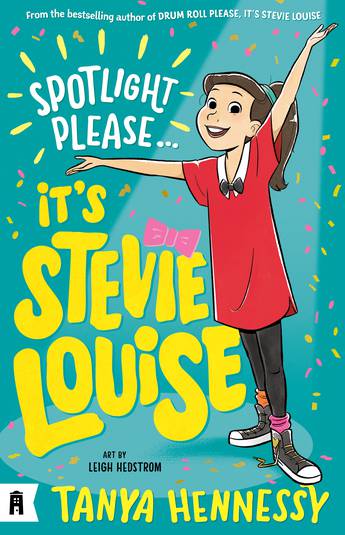 Spotlight Please… it's Stevie Louise
By Tanya Hennessy with illustrations from Leigh Hedstrom
Reviewed by Sarah Custance

Tanya Hennessy is a Jill of all trades with careers as a TV presenter, comedian, radio announcer, podcaster, and author. Spotlight Please is the second book after Drum Roll Please in Hennessy's junior fiction series It's Stevie Louise, about a young girl and a group of her friends joining together to create their own production company.
After going viral from a previous performance Stevie and the rest of the kids from Lunchbox Productions are still feeling on top of the world! But nothing lasts forever and soon the crew are faced with the realities of showbusiness, that everything is expensive. Amazing costumes and sets don't just grow on trees and the group's parents are having to redirect funds back into everyday life things. To keep their showbusiness dreams alive there is just one solution, compete in the local talent show that offers a grand prize of $1,000!
With an amazing new act the group are feeling pretty confident until they start to suss out the other competitors… with singing goats, twerking grandma's, and a professional children's production company up against them can Stevie keep up moral while still holding everything together, including their main star with a unicorn horn stuck to his head and parents threatening to pull their kids out of Lunchbox Productions?
Funny and silly, this is a great book for younger readers with its large font, inclusive characters, and fun illustrations every few pages. Though you can read this as a standalone book, I would highly suggest reading the series in order as little recapping is done in this second book, leaving the reader in the dark about past events and why everyone keeps calling the main character Steven instead of Stevie (spoiler, her mum started it to mess with her and it caught on).
The cast is fairly diverse with one character in a wheelchair and another being a very flamboyant young man who happily wears his super-glued on unicorn horn and tail and says 'Yes Queen' quite a lot. With an overwhelming theme of friendship and belonging, the book also deals with some behavioural issues, sportsmanship, family, and trust. If you have a young reader looking for a fun and fluffy read, then this is the perfect series for you.