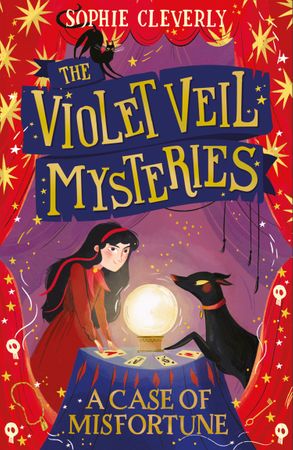 The Violet Veil Mysteries: A Case of Misfortune
By Sophie Cleverly
Reviewed by Sarah Custance

UK author Sophie Cleverly is best known for her middle-grade series Scarlet and Ivy, which is comprised of 6 books. The Violet Veil Mysteries is Cleverly's newest mystery series with A Case of Misfortune being the second book, following A Case of Grave Danger.
12-year-old Violet Veil is a Victorian era undertakers' daughter with a mission, to not simply be the quiet, well behaved young lady that society demands. After her wildly successful venture of solving the infamous Seven Gates Murders, saving her father from the noose, and acquiring a new friend in the boy she found wandering the graveyard very much alive after being declared dead, Violet is now ready for a new mystery to solve!
She doesn't have to wait long, as a new and extremely successful fortune-teller named Lady Athena comes to town and is somehow making impossible predictions come true. With friend/business partner Oliver, trusty dog Bones, some helpful ghosts, and some new theatre friends by her side, will Violet be able to solve this mystery, or will she end up loosing more than she bargained for?
The Violet Veil Mysteries is the perfect series for fans of mysteries with a slightly supernatural quality. Violet solves mysteries, delves into the spirit world (both real and fake), navigates friendship turmoils, traverses around an old theatre, and is forced to acknowledge her own limitations all in this one book.
Much like the first instalment, I wish that Cleverly had used more of the mysterious ghostly connection that Violet has, rather than it just being a convenient plot device. Overall though, fans will not be disappointed in this latest novel that is still full of twists, red herrings, death, and mischief!