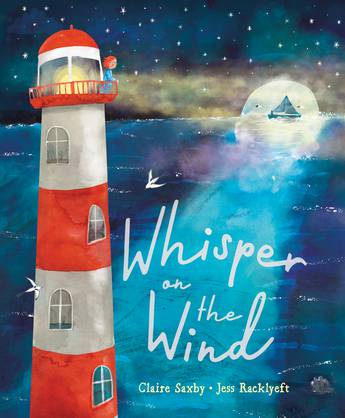 Whisper on the Wind
By Claire Saxby and illustrated by Jess Racklyeft
Reviewed by Sarah Custance

Australian author Claire Saxby has almost 30 books to her name, ranging from non-fiction to picture books and novels. Whisper on the Wind is one of her latest picture books and second venture with artist Jess Racklyeft after the success of their award-winning picture book Iceberg.
In this picture book we follow young Ren's dream as it leaves through the window and out onto the nights breeze. It is helped along by moon beams, sea creatures, mermaids, and waves until it reaches its destination. A sailor working out at sea catches Ren's dream and discovers what's inside.
Whisper on the Wind is a lovely picture book about the magic of the ocean and the night meeting together to bring a parent a special message from their child. The amazing illustrations by Jess Racklyeft help bring this story alive with so much detail that readers will be able to continuously notice new things on each page. This book is fundamentally about separation, universal connections, reunions, and ultimately love and wonder.
The phrase repetition, dreamy illustration, and message of love and connection will make this a perfect bedtime read where both parent and child will have fun searching through the pages to spot all of the hidden gems. This would also make a wonderful gift with its eye-catching cover, whimsical end pages, and simple, wholesome story.