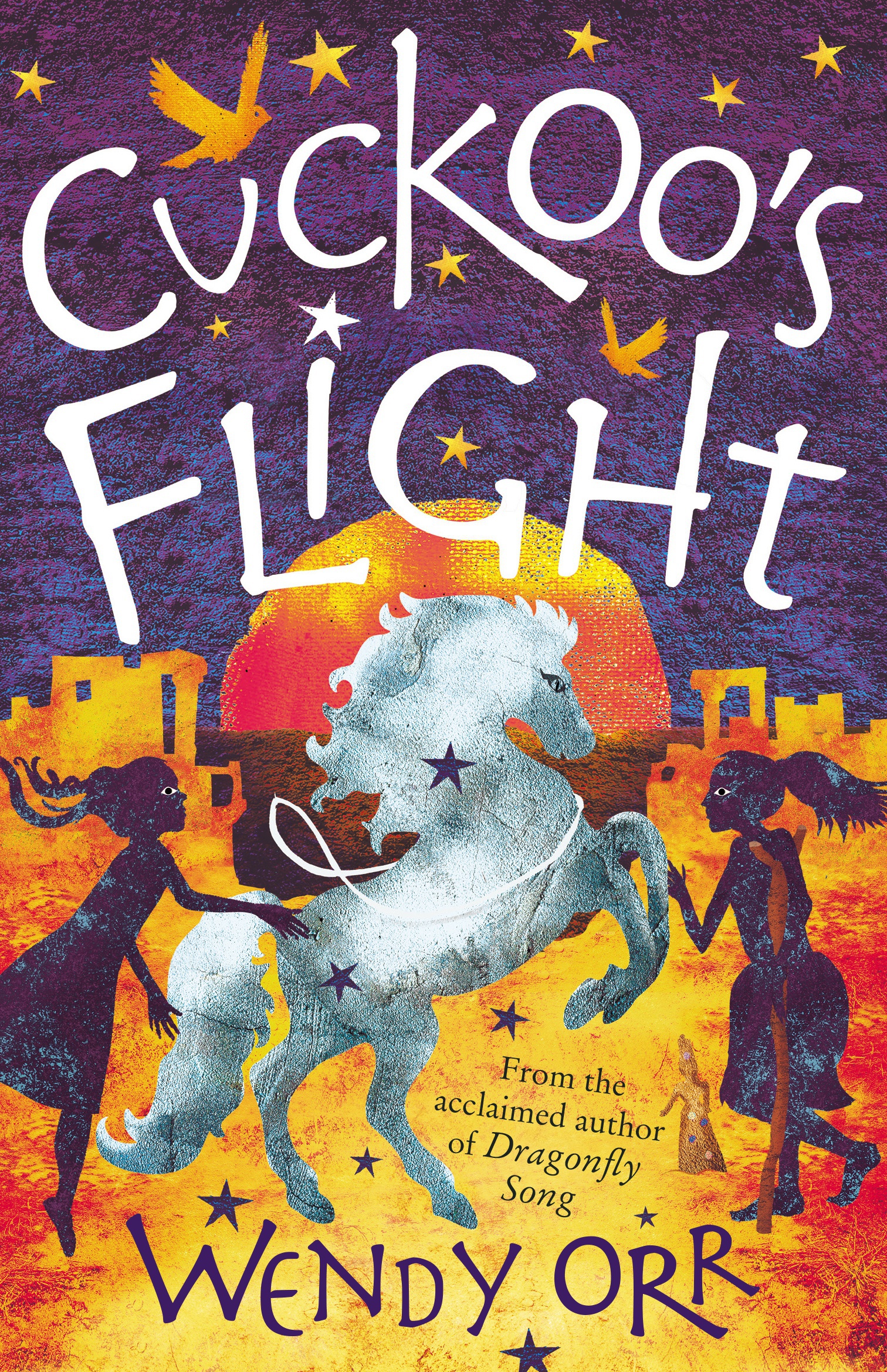 Cuckoo's Flight
By Wendy Orr
Reviewed by Zewlan Moor
Cuckoo's Flight is a companion novel to the critically acclaimed Dragonfly Song and Swallow's Dance, but totally successful as a standalone. All three are set in the Bronze Age Minoan civilization in Crete. This third is set at a time when raiding ships threaten the peace of a small village.
Clio is a spirited girl with a passion for horses, and her mare Grey Girl in particular. Unfortunately, a riding accident has left her unable to ride, and needing to use a crutch to walk. Clio's father also loves horses and makes her a chariot from a wicker basket. This allows her the freedom to ride and spend time with her beloved animals.
Clio's time might be up. In this ancient world of sacrifice and appeasement of the gods, the priestess has decreed that a maiden must be sacrificed at the spring festival. Clio's grandmother, the potter Leira,  creates a priestess of clay to appease the gods in place of a human sacrifice, so "Clio, with all the girls of town,/can stay alive and breathing/above the earth." (143).
Leira is the same character from Swallow's Dance, who started off life as a priestess, was then enslaved, and then escaped a volcano eruption and fled to her current home as a refugee. She is a kind and wise woman who "has touched more lives than anyone could imagine", having inspired the town to "always welcome fleeing strangers." (34)
The whole community is devastated when Leira dies, but Clio continues to hear her voice in her head, often with sage advice. As the threat of invasion increases, Clio sees the men practising warcraft. She does her part by working at the kiln, caring for the horses and her little brother, and helping her fatigued mother with domestic chores.
But in demon dreams she feels the clay
not rolling between her palms
but sliding into her mouth
and throat,
choking, suffocating —
and she cannot shout
because she is nothing but clay,
a silent scream within the earth. (144)
In a mix of verse and poetic prose, Orr conveys the experience of living as a girl in this matriarchal community. On the verge of being taken over by the patriarchal Greek invaders, there is much at stake for the society as a whole, and Clio in particular.
A disabled girl's perspective in the Bronze Age is one I have never read or dwelt upon, but it is fascinating. Orr has spoken openly about her experience of spinal injury, her long road to recovery, and being a patient when she previously worked as an occupational therapist. I would argue her personal experience colours her depiction of characters with congenital and acquired disability in Dragonfly Song. Once again, in Cuckoo's Flight, she delves into the main character's thoughts and motivations so thoroughly, with Clio portrayed as an active agent, despite her injury. Across the three novels, Orr manages a depth of psychological insight reminiscent of Eagle of the Ninth by Rosemary Sutcliff (who coincidentally was also physically disabled with juvenile arthritis).
Cuckoo's Flight is highly recommended as a work of literary historical fiction that blends psychological insight with themes of feminism, representation and disability; and also experiments with the poetic form.