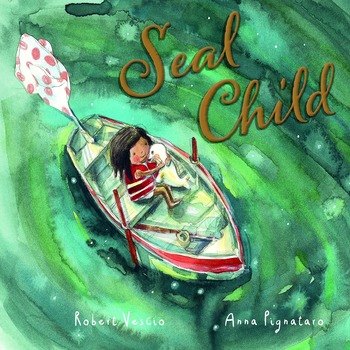 Seal Child
By Robert Vescio and illustrated by Anna Pignataro
Reviewed by Sarah Custance

Sydney based author Robert Vescio has written over a dozen picture books and has achieved international success with actor Tom Hardy reading Under the Same Sky as a bedtime story for the UK children's show CBeebies. Seal Child was originally published in 2021 and it's popularity has led to it's second printing in 2022.
A young girl is enjoying her peaceful life with her family until a huge storm hits their community and the girl is left all alone. Scared and alone, the girl wanders to the shore where she encounters a seal pup who also seems to have lost its family. Together the two embark on a journey across the sea in a little rowboat to try and find a new and safe home. But the sea can be both beautiful and harsh, will the two little friends be able to make it through rough weather, scary sea creatures, and uncertainty, or will it all be for nothing in the end?
Seal Child is a wonderfully simple and engaging picture book to read. The wording is sparse and clear, making it a great read-along book, and the stunning watercolour images by Anna Pignataro really help to capture the readers attention. In this little story of hope, friendship, and home, young readers will find plenty of things to enjoy, especially on one page spread that contains 4 different images of the boat at sea that is sure to spark their imaginations.