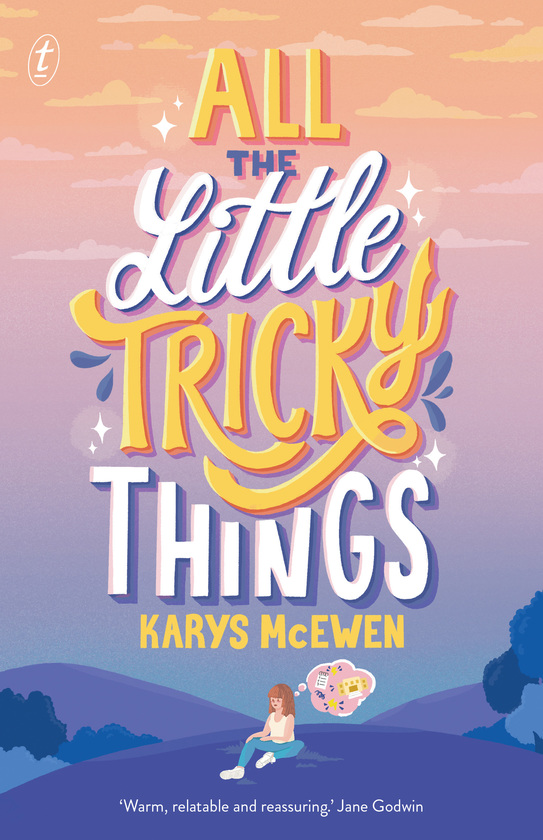 All the Little Tricky Things
By Karys McEwen
Reviewed by Sarah Custance

In her spare time, Australian author Karys McEwen is the president of the CBCA (Children's Book Council of Australia) Victorian branch, a school librarian, and a columnist for Books+Publishing. All the Little Tricky Things is McEwen's debut middle-grade novel.
Twelve-year-old Alberta (Bertie) constantly finds herself worrying about little things that she doesn't think anyone else would ever worry about, but now that the start of summer holidays has come she finds a perfectly reasonable worry in having to leave her safe and familiar small town to travel into the city for high school. All of her friends and classmates are staying in Merri (their small town) to attend the local school, while Bertie is going to a private school an hour away by train.
To try and overcome her worries, Bertie's best friend Claire makes up a list of things that she has to complete before summer is out to prepare her for high school. As Bertie methodically, and sometimes clumsily, checks off items on the list, she finds herself gaining new confidence but also new worries. As Bertie grows she begins to see rifts in her friendship with Claire, and as the list comes to a close, Bertie begins to wonder if she'll still have any friends in Merri, yet alone a best friend. Does growing up mean growing apart or is there some sort of compromise between the two?
This was a wonderfully constructed and executed debut novel by McEwen. You could really feel and understand Bertie's anxieties, and the town of Merri felt so real that it could easily be any small town you drive through in Australia. The main themes of this book are friendship, growth, and finding your true self, but has important undertones of consent, knowing your own personal boundaries, family, anxiety, peer pressure, and compassion.
This will be a wonderful book for not just readers who are struggling with anxiety about high school or a school change, but also for readers struggling with friendship balance and finding themselves. All the Little Tricky Things is an essential book for all school and public libraries as well as a making a great gift for any young reader who is about to enter a new phase of their lives.