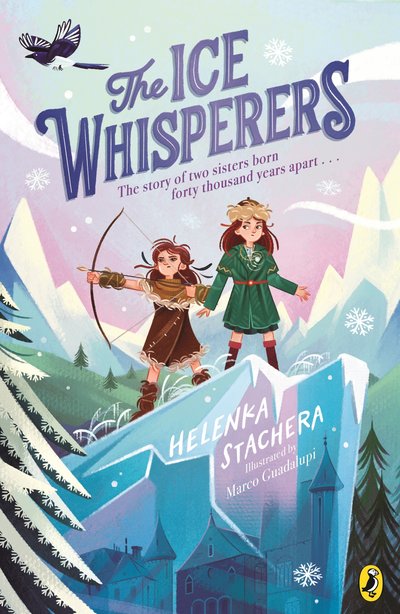 The Ice Whisperers
By Helenka Stachera
Reviewed by Sarah Custance

UK author Helenka Stachera grew up with her British mother and Polish father, surrounded by legends and fairy tales. The Ice Whisperers is her debut novel written about family and belonging which, as an adopted child, are topics close to her heart. Her second novel Fin and the Memory Curse is coming out later this year.
When 13-year-old Bella is suddenly summoned to live with her uncle in the forests of Siberia she is filled with excitement. Having spent all her live feeling like an unwanted outcast, she hopes that meeting her uncle and living in the house where both her parents had stayed when they were alive will give her a feeling of connection. So when she arrives and realises some shocking and very disturbing things about her families past, Bella sets off on an unimaginable journey, not only across lands, but across worlds…
Arriving in a magical shadow land 40,000 years in the past Bella meets Ren-ya, a young and hostile tribal warrior who also happens to be her sister! With the divide between worlds becoming hazier, Bella and Ren-ya are told that in order to save the spirit world and avenge their murdered mother, they must truly work and bond as sisters. Bella is delighted to have found not only a relative but a sister(even if they are magically 40,000 years apart), but Ren-ya is less than thrilled to find out she has a sister, especially one that shares physical traits with her tribes sworn enemies. Will the two sisters be able to put their differences aside and join forces to save this spirit world, or will distrust and misunderstandings pull them apart?
The Ice Whisperers has some wonderfully rich writing and detailing of scenes that engages all of the readers senses. As a reader you do feel as if you have been transported 40,000 years into the past and are left questioning how useful you would be in certain situations that arise within the book. This sense of reality does come at a bit of a cost as we are spared no details when it comes to the killing and butchering that comes with hunting, or other scenes such as a man having his eye gouged out by a magpie, men being trampled to death by mammoths, someone being stabbed in the throat, two characters having their blood drained for different purposes, and a sabretooth tiger attack.
So while this is an excellently written novel, it is definitely not for the faint of heart. The Ice Whisperers is a complexly woven story about two sisters learning to find themselves and trust in each other while also dealing with loyalties, community, revenge, and loss. This is the perfect read for any adventure and magical realism fans.