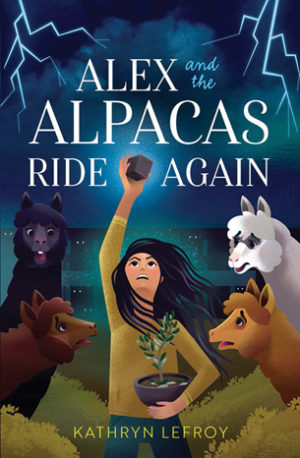 Alex and the Alpacas Ride Again
By Kathryn Lefroy 2022

 
Reviewed by Zewlan Moor
Alex and the Alpacas Ride Again is a fast-paced sequel to Alex and the Alpacas Save the World, although it can be read as a standalone. Lefroy's debut novel was shortlisted for the West Australian Premier's Book Award for Children's Literature.
Alex Ortiz is an eleven-year-old girl who lives in Melbourne. She is absolutely ordinary in every way, except for being the Fortieth Sun, prophesied to save the world from destruction by the evil spirit, Kiala. Since fulfilling the prophesy last summer, life has been a bit of a let down for Alex.
Now her mother, who is oblivious about the world-saving, is going to a conference for a week. Grandpa Jacob, who knows all about Alex's gifts, comes to babysit. They are soon joined by Grandpa's neighbour, Leeuie, and four alpacas, who are warrior guardians tasked with protecting Alex. Leeuie and the alpacas bring a pot plant with them that has the spirit of Kiala bound inside it. But unfortunately, the spirit is keen on escape.
Much drama ensues with new characters, such as an unlikely-looking museum curator, an American teen and another malevolent spirit, all desperate to find an ancient artefact.
This book was entirely enjoyable because of its fast pace, ridiculous characters – including the four very different alpacas – and high stakes, good-versus-evil plot. Alex's emotions (wanting to be special, wanting to do everything by herself, and then rushing headlong into situations without thinking) will resonate with the target audience. Big themes of power and its ability to corrupt are raised in the book, in a way kids will relate to. For example, there is a scene where Alex treats her grandfather really poorly, which will surely make readers think critically about her actions.
The only thing that made me cringe was the part of the magic ritual that required Alex to cut her hand and bleed into a vessel. It's very Twilight, but a bit inappropriate for the target audience of Ages 8-12, I would say. However, my children reminded me that this is such a common trope in television shows and books now. And I guess readers are good at self-censoring and skipping over things that make them queasy.
Overall, this was a delightful read for middle to upper primary students on their way to reading Percy Jackson.
I'm sure Australian children will love seeing familiar places in a fantasy book, and international readers will enjoy being introduced to a novel setting. It is such a pleasure to read a low fantasy book set in contemporary Australia!