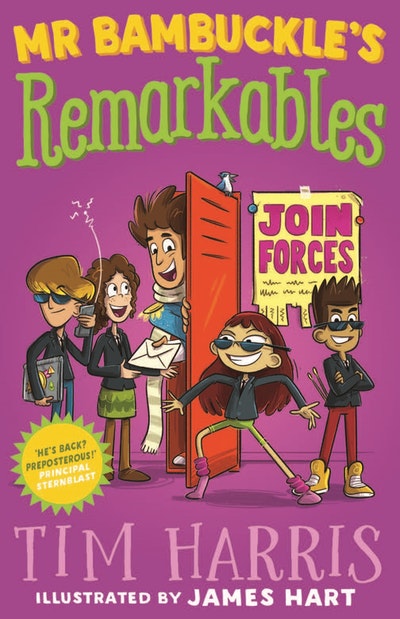 Mr Bambuckle's Remarkables: Join Forces
By Tim Harris and illustrated by James Hart
Reviewed by Sarah Custance

Tim Harris is the much beloved author of the Exploding Endings series as well as the Toffle Towers and Mr Bambuckle's Remarkables series' of books. Mr Bambuckle's Remarkables: Join Forces is the 5th instalment in the Mr Bambuckle's Remarkables series.
Mr Bambuckle and the students of room 12B are back! And this time they have 4 new students joining the class! As the class begins to learn about their new classmates, animal loving Fern, computer hacker extraordinaire Chip, dance enthusiast Twirl, and drummer obsessed Veer, evil Principal Sternblast is once again up to no good. But this time more is at stake than just loosing their weird and wonderful teacher, this time the whole school is in danger!
Mr Bambuckle's unwavering belief in his students is put to the test as he tries to lead them down the right path, but it is up to the students to put together the clues and work with each other to save the school. With so much uncertainty ahead can room 12B welcome the new students AND join forces in time to save their school or will Principal Sternblast's dastardly plans be too much for a group of eclectic school kids?
Mr Bambuckle's Remarkables: Join Forces continues to be just as fun and silly as the previous books in the series with the occasional illustration by the equally remarkable James Hart (illustrator of Wolf Girl), both new and old fans will be happy to return to the antics of room 12B.
While this is a series, Join Forces can be read as a standalone book though a few references may be lost it is not essential that you have read the previous books. The Mr Bambuckle's Remarkables series is a great read for anyone looking for a funnier and more light-hearted book that doesn't necessarily make a great deal of sense but is fun and engaging to read.