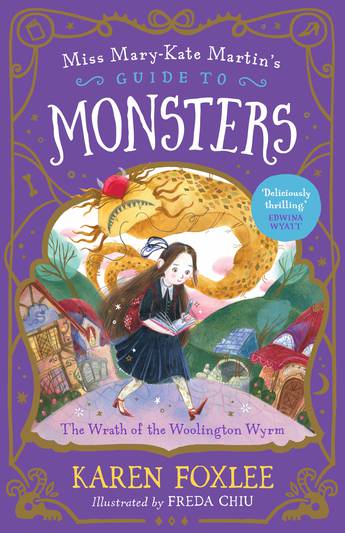 Miss Mary-Kate Martin's Guide to Monsters: The Wrath of the Woolington Wyrm
By Karen Foxlee and illustrated by Freda Chiu
Reviewed by Sarah Custance

Award-winning Australian author Karen Foxlee is the writer behind Dragon Skin, Lenny's Book of Everything, A Most Magical Girl, and Ophelia and the Marvellous Boy. The Wrath of the Woolington Wyrm is the first book in Foxlee's brand-new junior adventure series Miss Mary-Kate Martin's Guide to Monsters, with the second book to be released late 2022.
10 year old Mary-Kate is the daughter of two daring and adventurous archaeological parents, however she seems to have missed out on the daring and adventurous gene as she prefers order, familiarity, and calm. So when she has to join her Professor mother on a dig in the small village of Woolington, she makes sure to take only the necessities, like an array of her 'lucky' collection of things, her signature sparkling red shoes and backpack, and her strawberry scented notebook with glitter pens that help to balance out her outfits and accessories.
When they arrive in Woolington Mary-Kate is instantly overwhelmed with questions and uncertainties about the monstrous Woolington Wyrm that the locals are certain is the reason behind her mother's visit. But with help from an unlikely friend in the form of boisterous Lady Arabella Woolington, she slowly begins to debunk mysteries and form theories about what could actually be behind the Woolington Wyrm's seemingly random disturbances within the town. But with time quickly ticking away until the construction of a large shopping centre that seems to have awoken the Wyrm, will the two girls be able to save the monster and the quaint little village, or will it all be over for this town legend?
The Wrath of the Woolington Wyrm is a great beginning to what should be a very promising series for Karen Foxlee. It is a wonderfully fun fantasy-adventure that deals with mythical creatures, friendship, secret societies of Monster Hunters (both harmful and helpful), anxiety, family, and bravery.
The charming and quirky black and white illustrations by Freda Chiu help to make this book feel light-hearted and sweet. This is a great read for fans of exciting adventure and fantasy books, and I greatly look forward to the next instalment in the Miss Mary-Kate Martin's Guide to Monsters.