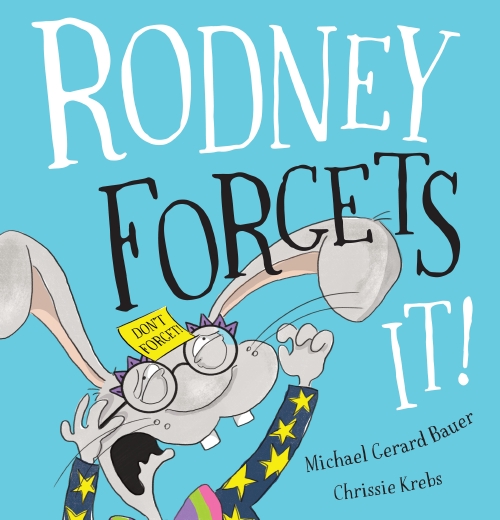 Rodney Forgets It
Written by Michael Gerard Bauer
Illustrated by Chrissie Krebs
Reviewed by Mia Macrossan
Michael Gerard Bauer is the multi-award-winning author of The Running Man and Don't Call Me Ishmael . His debut picture book Rodney Loses It! won the 2018 CBCA Book of the Year Award, Early Childhood, and more recently, The Things That Will Not Stand won the prestigious Prime Minister's Literary Award, 2019. Chrissie Krebs is also an author and illustrator who teaches art and media in Melbourne. She is also illustrated Rodney Loses It!.
We all loved Rodney the quirky rabbit and it is delightful to have him back again in Rodney Forgets It! where we learn about yet another side to his character.
Apparently Rodney can be very forgetful. When he is invited to THE PARTY OF THE YEAR he devises a plan to help him remember the date that involves lots of  yellow sticky notes all over his house. Of course things go awry but the problem is solved in a beautiful way because there is one thing that Rodney never forgets and people remember that about him.
Michael is a writer  carefully crafts stories peopled by characters that linger long in the memory. This humourous picture book is no different. The story zings along in a brisk rhyming text just begging to be read aloud. While it is laugh out loud funny it also has a serious side with a theme about helping friends and neighbours and the community in general.
I'm so glad that Chrissie Krebs did the illustrations again. She has extended  the delightfully zany Roger whose giant ears and gap toothed grin own each page. He has the best party outfit ever. The colours are bright and cheerful and the whole is overflowing with energy and humour.
Sure to appeal to anyone who has ever forgotten anything, and isn't that everyone?