The Snow Laundry, The Towers #1
By Mette Jakobsen
Reviewed by Mia Macrossan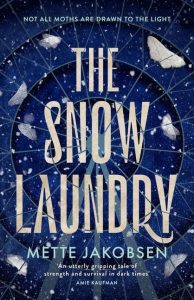 Mette is a writer and playwright who teaches creative writing and has put her talents to good use in creating her first YA dystopian novel. In Ally she has created one of those indestructible and indomitable teenagers who survive no matter what travails and horrors they undergo.
Ally and her friends were formerly homeless, living in the city's tunnels, before they exchanged their votes for food and shelter. Now they are trapped, guarded and forced to work long hours. They are seen as 'other', called 'rats' and treated accordingly. Ally's only joy is her relationship with Bon and when he disappears she is devastated. In her efforts to find out what happened to him she becomes embroiled in a resistance movement that has her ricocheting from one danger to the next.
There is  violence, murder, attempted rape, bomb blasts, and desperate escapes alleviated by friendship, love and loyalty. Mette keeps a firm hand on the tension and suspense, feeding the reader dollops of information to up the ante and to keep you turning the pages. It is all very visual and exciting and the book would make a great tv series.
Having stayed up late to finish reading the book in one sitting it was so disappointing to get to the last page and read 'to be concluded' ! I am not a fan of cliffhanger endings. Its a technique often used in tv series to build audience loyalty and works on your curiosity to know what happens next. If you only have to wait a week it  can work, but in these times of binge watching maybe not so much. In this case you will have to wait until the sequel is published. In that time readers may have moved on to other books and other heroes.
However, Ally is a memorable character and her predicament at the end provides a spectacular climax, so I am sure she will build up loyal followers who will eagerly await the next instalment.
HarperCollins 2022