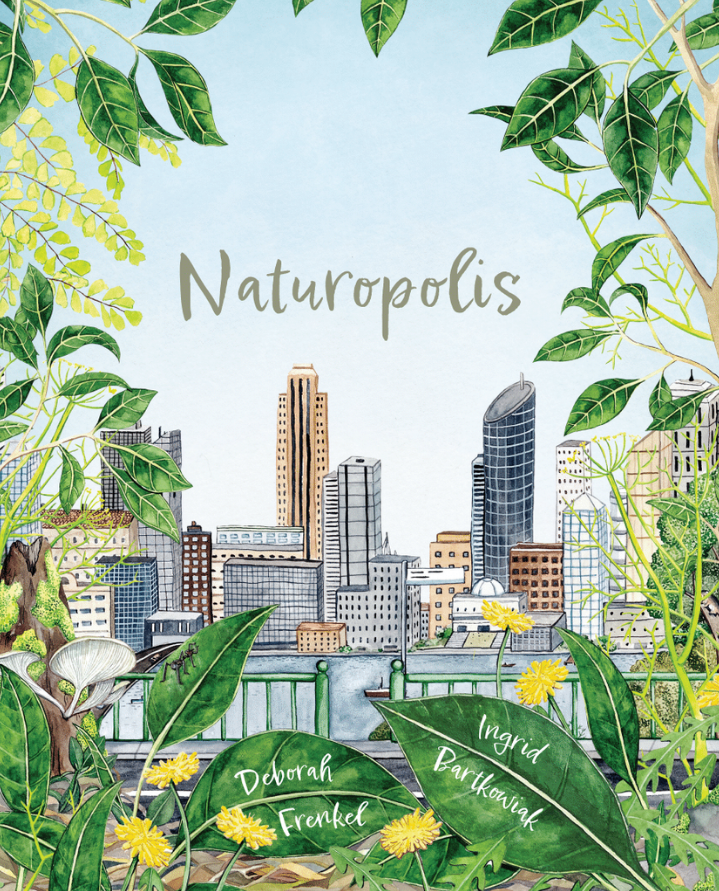 Naturopolis
Created by Deborah Frenkel and Ingrid Bartkowiak
Reviewed by Mia Macrossan
In our very busy lives rushing from one task to the next we don't often take the time to  enjoy the unobserved beauty around us. In Naturopolis  Deborah Frenkel and Ingrid Bartkowiak urge us to stop and look, to 'look closer, look with care and you may find a forest.'
This carefully created picture book reveals the world of nature hidden in 'the great grey city, all steel and stone, tile and tar.' We learn about the animals and plants that survive and even thrive in these adverse conditions. These include  the Gravel Ant, Dandelions, Maidenhair Fern, Zooplankton, Silver Moss, Ghost Mushrooms, Wild Fennel, the Social Huntsman Spider, the Penny Lizard, the Ringtail Possum and Tiny Logania.
Each page carefully reveals its wonders, paying particular attention to scale. We see the animal or plant from our point of view and then in closeup.  Each animal and plant is given its botanical name and some salient fact. I didn't know that ferns are one of 'the oldest and toughest plants on Earth, surviving in many different habitats across every continent except Antarctica', and 'colonies of huntsman spiders can number up to 150  spiders of all ages, led by a female chief,' maybe that is why they are called social.
Ingrid Bartkowiak's artwork makes even a dandelion look beautiful. There is careful detail but also poetic softness in the colours and design that encourage the reader to pause and observe. The text is lyric and imaginative: 'Here is a river in the gutter where swimmers drift and roll, riding the rush and the slide of the wash drawn down through the tangle and tumble of froth' (of zooplankton in rainwater).
We start with the big city built by people and end with city built by ants, a perfect ending for a book about a polis in nature.
A book to treasure as it shows children such an appealing and informative  way of observing the world around us.