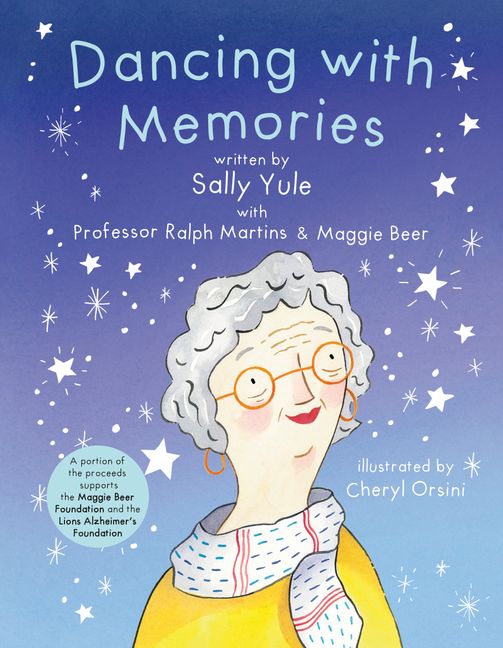 Dancing with Memories
Written by Sally Yule, with contributions by Ralph Martin and Maggie Beer
Illustrated by Cheryl Orsini
Reviewed by Margarite Igras
This book is a useful and gentle introduction for young children about dementia and memory loss. The central character is Lucy whose journey is told in her words, with a focus on the positives that remain to her, rather than the problems that this condition presents. It is not the journey of many other dementia sufferers who can be confused, muddled and fearful.
Lucy is a happy person with dementia.  She has good and bad days and lives independently, with the support of family and her local community. There is a recognition that she can't do everything she used to do, but when she disregards her daughter's note and decides to head off to her granddaughter's wedding by herself, she is soon very lost and confused.
The illustrations paint a picture of a bustling, friendly assortment of people, engaged in gardening, enjoying food at a café, children at play in the park. Lucy is mostly smiling and content, but when she gets off the bus, she looks around and says I'm pretty sure I'm lost.. For me, there is a most poignant page showing Lucy walking down a street which has no end.
The text looks like free verse with repetition and its own melody. The words and the illustrations blend as Lucy informs us both in words and pictures what she is going through. She is still Lucy. She has dementia and her brain has changed, but she still gets enjoyment from singing, gardening, praying, writing, and listening to music.
Dancing with Memories has a sense of celebration and fun – I wave to Nellie my nutty neighbour and reminds me about the wonderful affect music has on dementia sufferers. Does Lucy remember dancing at other weddings?
Professor Ralph Martins had included some useful information about dementia and Maggie Beer has included some simple healthy recipes for children, to ensure that they eat well to keep a healthy brain.
Having recently lost my mother who had dementia, I wish that she had experienced this gentler slide into memory loss. Hers was a confusing, frightening, challenging drift into an unknown world which was distressing for her family.
This book shines a positive light on dementia, and on how to treat the sufferers with the respect and support they deserve.