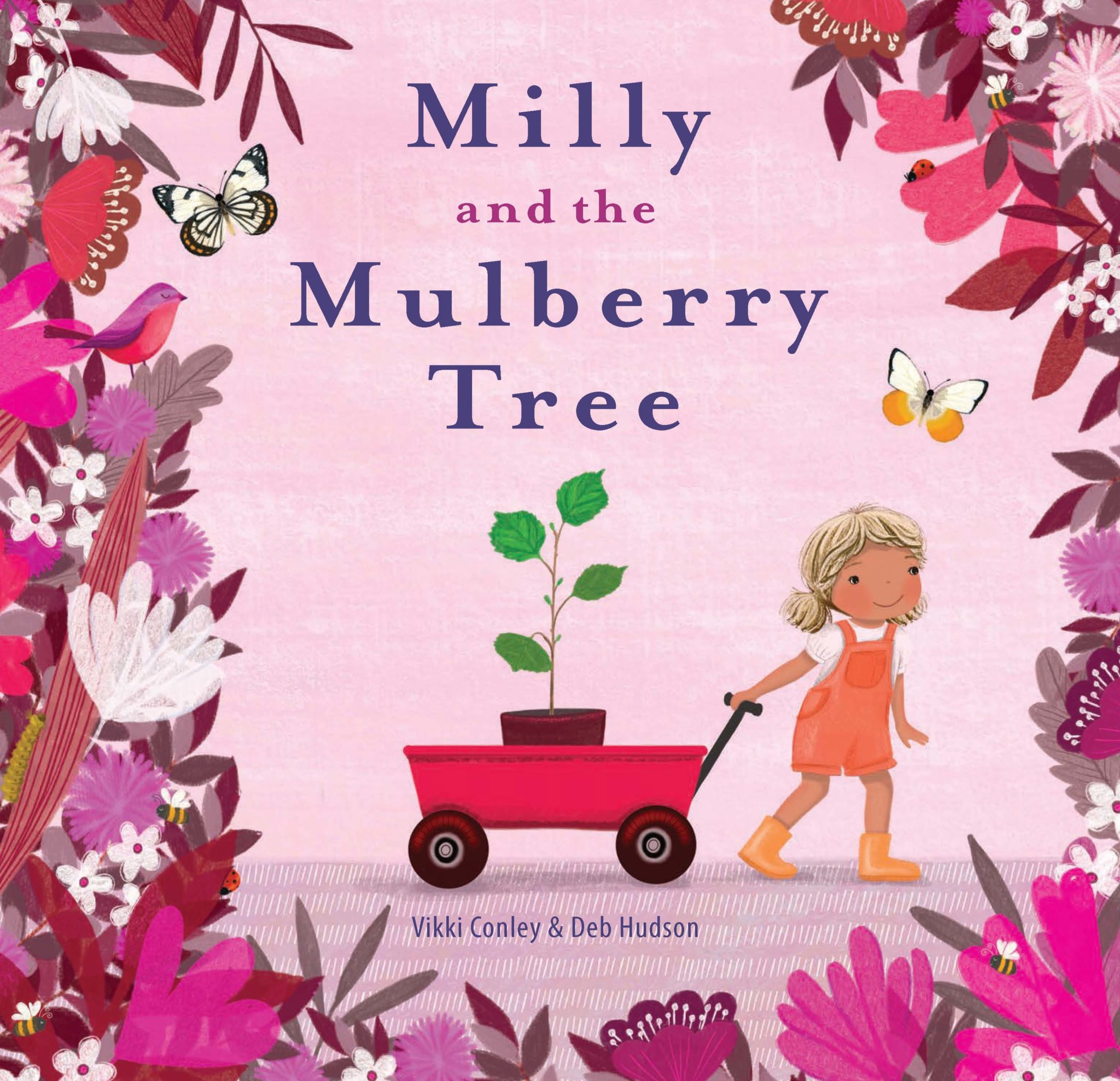 Milly and the Mulberry Tree
Written by Vikki Conley
Illustrated by Deb Hudson
Reviewed by Sandy Driessens
Milly's Mulberry tree is the centre of her world.
One Day Milly helped her Papa plant a tree, right in the middle of the garden, "so it can grow with us". As the tree grew, so did Milly and her first pets, silkworms. They wrapped themselves in silky cocoons and hatched into powdery, soft moths. She also discovered that mulberries were magical. They changed colour and were like crimson lanterns, shining in the green foliage of the mulberry tree. When she grows up, Milly finds herself in an exotic, faraway land but discovers that the magic of the mulberry tree is all around her. How will she share this magic with those from another part of her expanded world?
Vikki Conley has written gentle prose that uses descriptive adjectives and verbs to creates a magical world of silk and transformation. The conversations between Milly and her Papa are short but emphasize the bond between them and the world created around the mulberry tree.
Deb Hudson's illustration style is recognizable. Her painted, textural images using mulberry red, pinks and green, create Milly's world. The characters also have the wide-eyed innocence, emotion and relaxed movement found in The Pear of Hope. The transformation of Milly from child to adult is subtle but easily recognizable. The endpapers depict growth and transformation with soft, silky images.
With the feeling of an autobiography, Conley has created a story about growing up, changing and sharing your home world with your new family.
Children will enjoy the story of the transformation of the silkworms and perhaps, will be encouraged to explore the mini-worlds outdoors. Parents who share the story, may be reminded of their own special "hideaways" and wish to create one with their little ones. An appealing read.