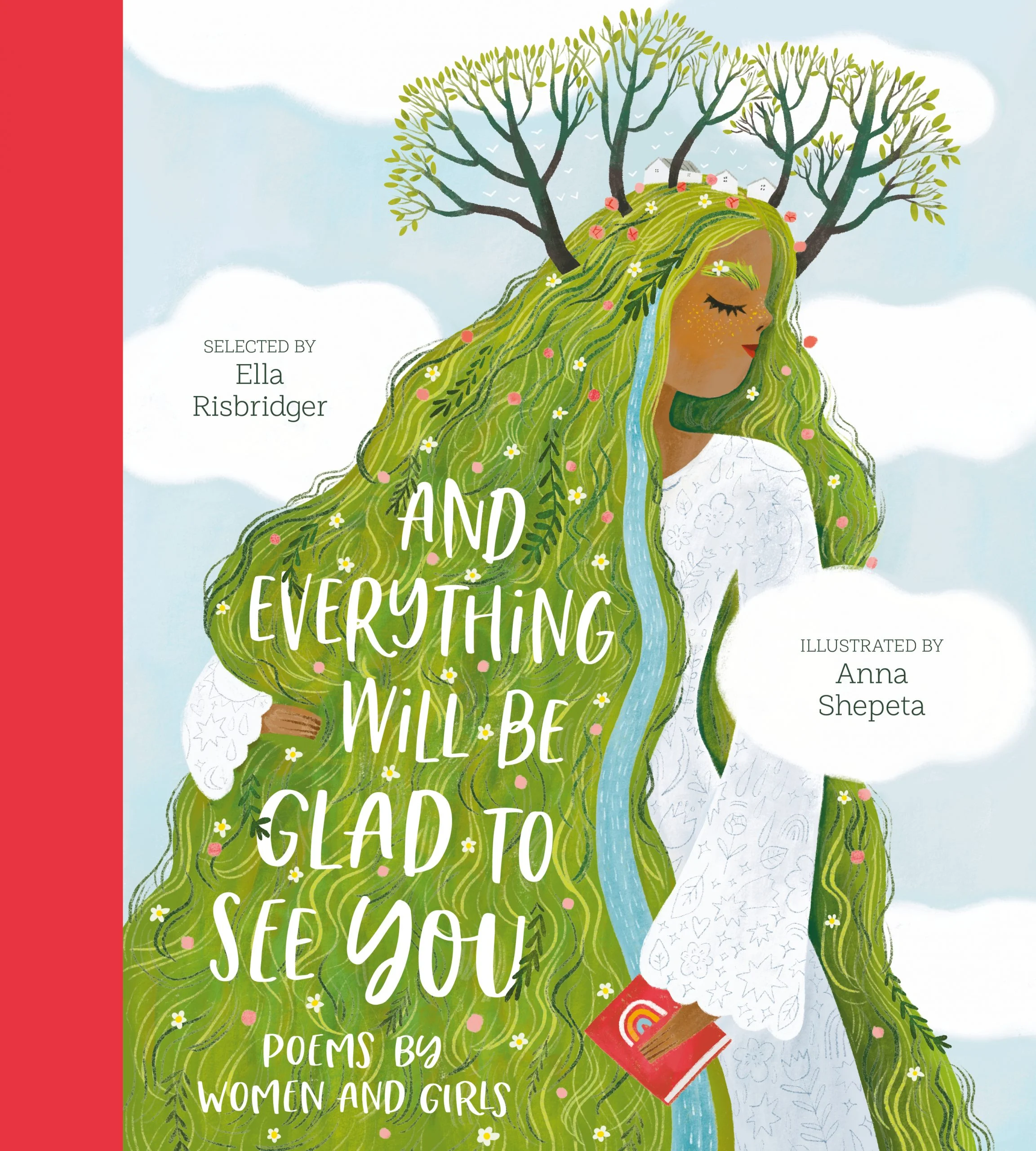 And Everything Will Be Glad To See You
Poems by women and girls
Selected by Ella Risbridger
Illustrated by Anna Shepeta
Reviewed by Mia Macrossan
Ella is a food blogger as well as a writer of historical fiction (The Secret Detectives), and has produced various other anthologies. Anna is a remarkable artist known for her bold use of colour and her depiction of strong female characters so she is an inspired choice to illustrate this book.
The reasoning for an anthology of exclusively female poets is explained in the lengthy introduction. Most poetry books include many more men than women and lists of famous poets in history are almost always of men, so this book is an attempt to redress the balance,  a 'shot at being fair'. She quotes Virginia Woolf ' I would venture to guess that Anon, who wrote so many poems without signing them, was often a woman'.
Not everyone is happy with this arrangement – Elizabeth Bishop, a famous and respected poet, thought it was a bad idea and refused to be included, and her reasons are worth discussing.
Whatever your view of this approach, this is a welcome collection of diverse, stimulating and challenging poems richly illustrated to appeal to girls of any age. This is a book to give a young girl and enjoy watching her grow up in the inspiring company of its writers.
 Poems are loosely arranged by subject matter, starting with stars, galaxies, stardust, comets and then moving on to all sorts of people, babies, families, bathers, and grandmothers. Then a segue into evening with poems about staying up late, being alone at night and more. This is followed by poems about being outside in nature, food, being in the city, being a female highwayman and finally inspirational poems finishing with 'Life Doesn't Frighten Me' by Maya Angelou.
There are many familiar favourites here as Ella has included famous poets both old and modern, such a Sappho, Christina Rosetti, Emily Dickinson, Carol Ann Duffy and Amanda Gorman and Anon, as well as less well known writers and some stunning poems by very young girls.
This arrangement encourages browsing as there is something wonderful to be found on every page. And it's not just the words! The illustration and design are superb. Rich colours flood every glorious page. We see girls and women from every age and of every age in a world rich with possibilities.
There is a chatty afterword followed by indices of poems, poets and first lines arranged alphabetically.
Pure bliss from cover to cover.