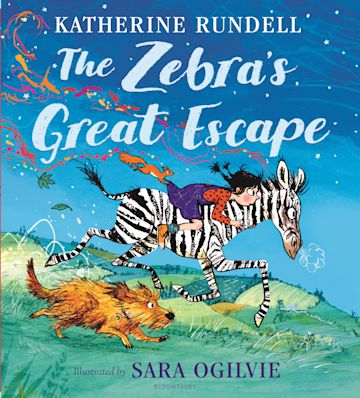 The Zebra's Great Escape
By Katherine Rundell
Illustrated by Sara Ogilvie
Reviewed by Mia Macrossan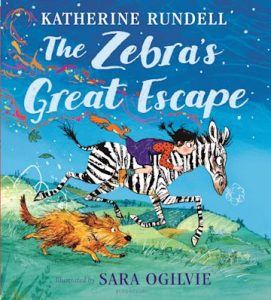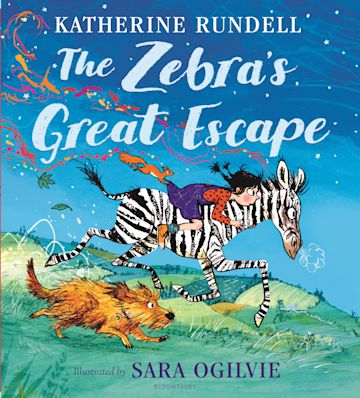 What a treat this is, a new book by two award winning creators. Katherine is the author of The Explorers, The Good Thieves and One Christmas Wish and more, while Sara creates award-winning art which has been exhibited across the UK and abroad.
The story starts the way it means to go on  – boldly, without compromise, straight into action – 'Mink did not believe in bedtimes.' When, late in the evening she falls off the swing into the shrubs she discovers a baby zebra, called Gabriel, who reveals that his parents were stolen by a horrible man who has taken them away somewhere and he desperately needs help to find them.
Mink is eager to help and makes a bargain with Rainbow, the  old dog next door, who enjoys 'barking at children and peeing on elegant ladies' shoes whenever they sat on his park bench'. With his help they find news of Mr Spit, an unscrupulous Collector of animals. Together Mink, Gabriel, Rainbow and an intrepid squirrel embark on a dangerous rescue mission that demands something extra from everyone.
From start to finish this is all great fun, as well as reinforcing values of friendship, animal rescues, loyalty and family. Katherine keeps the pace brisk, the tone light and creative energy working at full power. Her writing is crisp  and unsentimental,  matter of fact even when at her most imaginative. She never talks down to her readers but sweeps them away on a marvellous adventure.
Sara's artwork is inspired, creating and adding to the text in a way that adds an extra emotional layer. Each page is boldly and wittily illustrated using lots of bright colour. It is the same size as a picture book but the story is longer and more complex, and at 64 pages is aimed at a readership of 5+.
The whole is very attractive package indeed. Recommended.
Bloomsbury Children's Books 2022