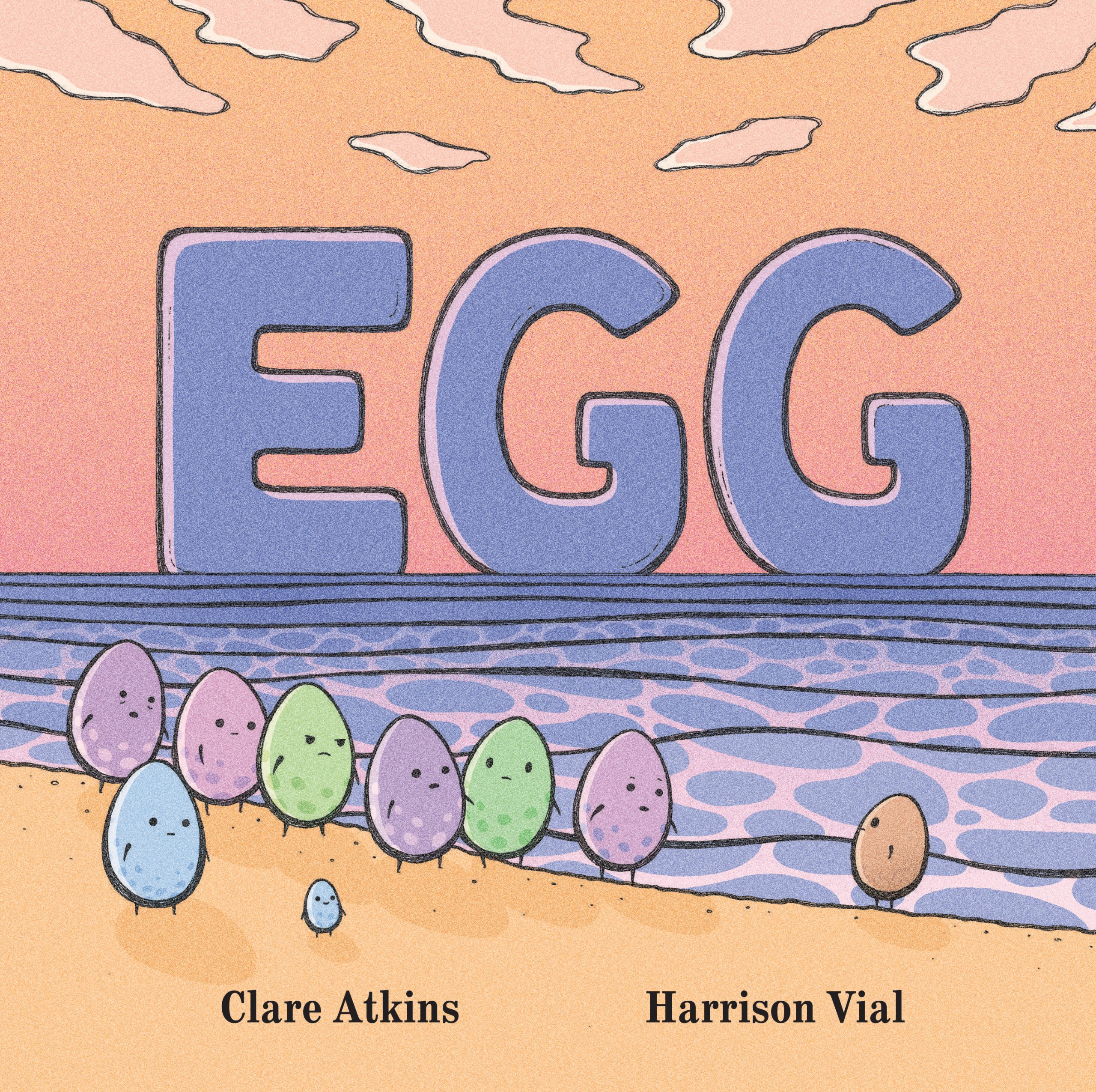 Egg
Written by Clare Atkins
Illustrated by Harrison Vial
Reviewed by Sandy Driessens
Out in the vast blue ocean, something bobs in the waves.   Alone.
A strange egg has washed up onto the shore of the island of cooked eggs. It is the same shape as the resident eggs, but it feels different and it floats … only rotten eggs float! Fearful of an egg that they don't understand, the 'hard-boiled' eggs roll Strange Egg to the furthest tip of the island and build a wall, to keep them safe from it. But Little Egg is not afraid. It climbs the wall and befriends Strange Egg. Will this friendship grow and benefit all the island's residents?
Clare Atkins is an author, scriptwriter and script editor for Australian television dramas. This is her first picture book and she writes in straightforward simple sentences. It is the conversation between the cooked eggs that tells the story. Their language, in short questions and statements, vocalizes their fear, superstition and stubbornness.
Egg is Harrison's debut picture book. His illustrations, a mixture of traditional and digital art, are delightfully simple while capturing the essence of this story. The colours are gentle, but vivid and have a distinctly Australian feel about them especially in the sand, sea and rocks of the island. The black outlines give the images a graphic impression. The basic features of the eggs, clearly express their emotions. The production of the book, especially the embossed eggs on the cover, makes it satisfyingly tactile.
Essentially a modern fable, Egg, symbolically explores two themes:  Australia's changing attitudes to migrants and asylum seekers and climate change. It considers the plight of refugees, with associated bigotry-induced division (notably, with the cautious conversation, so as to not appear so) and creates a tale of how environmental change affects life and attitudes.
I enjoyed this thought-provoking story about growth. Egg, will span a wide age-range of readers and create conversation that is relevant to that group. From the eggy tale for little ones to the societal perception of youth and adults, this story's conclusion offers the hope and joy, that we wish for the future.