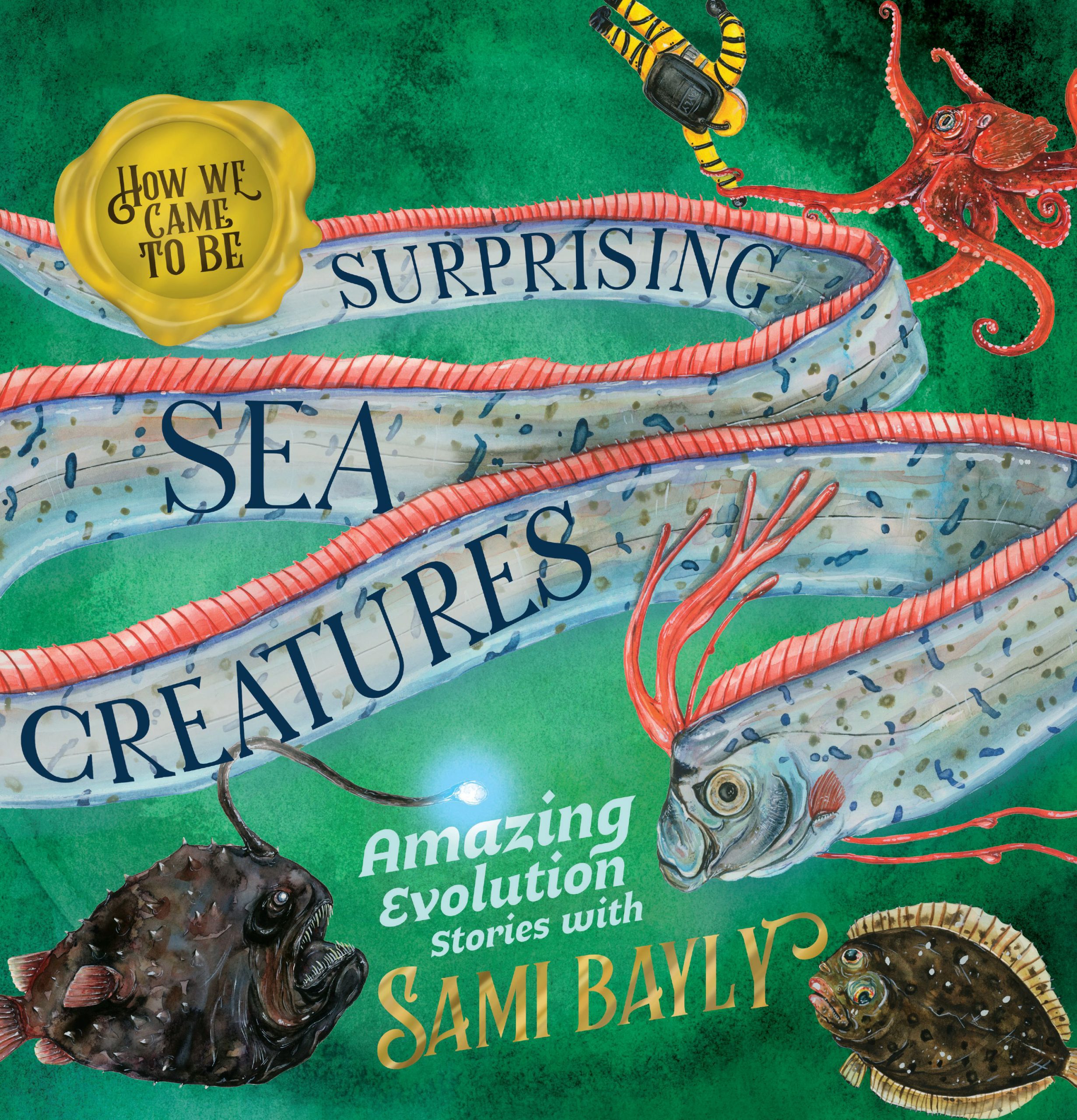 How We Came to Be: Surprising Sea Creatures
Written and illustrated by Sami Bayly
Reviewed by Mia Macrossan
Anything by Sami Bayly is guaranteed to be well researched and magnificently illustrated. Her other books The Illustrated Encyclopaedia of Dangerous Animals 2020, The Illustrated Encyclopaedia of  Peculiar Pairs in Nature 2021, and The Illustrated Encyclopaedia of Ugly Animals 2019, are all much awarded and deservedly popular.
How We Came to Be: Surprising Sea Creatures  is much shorter, in picture book format, and aimed at a slightly younger audience.
Scientists have divided the ocean into five different zones each with their own particular and peculiar inhabitants. We join Sami as, dressed in her deep sea diving gear, she visits each zone and finds and talks to some of the inhabitants. Being Sami they are always fascinating and unusual creatures, most of which you have never heard of.
We meet a spotted deep sea flounder, the ribbonfish, and the barreleye fish and learn about the vampire squid, the long living Greenland shark and my favourite, the tripod spiderfish, as well as several others.
There is plenty of information presented in speech bubbles on each page. The text is easy to read and and each animal is meticulously illustrated in the detail we have come to expect from this creator  which makes following Sami as she dives deeper and deeper into the ocean a beguiling activity.
Its a bit of a surprise to find a plastic bag right at the very bottom. Sami makes the point that the deep ocean has become littered with our plastic pollution and we are yet to know the full impact of it on ocean life and ecosystems.
More surprising sea creatures are shown on the final double page spread, (obviously Sami ran out of room).
Extensive Teacher Notes by Dr Robyn Sheahan-Bright provide plenty of resources for teachers and parents who want to explore further.