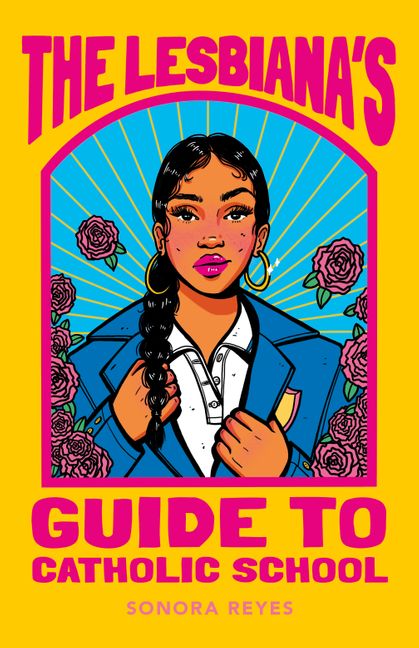 The Lesbiana's Guide to Catholic School
By Sonora Reyes
Reviewed by Rose  Hill
First things, first this book deals with suicide ideation, mental health, and hospitalization along with many forms of discrimination, these issues are potential triggers for many people.
I really enjoyed reading this book, the narrative about a gay American Mexican girl attending a Catholic school while coming to terms with who she is and who her family and friends are, is sharply written, unpredictable, funny and well-paced, the characters are well described and engaging.  I imagine the author Sonora Reyes drew on personal experiences as a "queer second-generation immigrant who attended a Catholic high school" for this book.
Yamilet Flores finds her 16 year old self at an exclusive Catholic high school for mostly white rich kids courtesy of her gifted brother, Cesar, who is at Slayton High on a scholarship.  Being a person of colour is something that Yamilet, Yami to her friends, cannot hide but being gay is certainly something she can hide from her new friends, her family, everyone.
Yami's mission at Slayton High is to keep her brother out of trouble, help her mom earn enough money to pay for her school fees and generally act straight.  She does not want to make the same mistake she did at her previous school where her best friend, Bianca, brutally rejected her after she came out to her.
Day one and Yami meets the inevitable "mean girls" and suffers their range of casual and not so casual racism.  However, Yami also meets the sassy, smart and openly gay Bo to whom she feels an instant attraction, Bo clearly likes Yami.  What would a straight girl do?
Yami's story runs in tandem with Cesar's who seems to have fitted in just perfectly at Slayton despite being in detention every other day. Their home life is vastly different from that of their privileged classmates, their father has been deported for activism, their devoutly religious mom works super hard to support them and Yami struggles to see a safe future where she can be her true self.
I enjoyed this novel tremendously, it is well written and presents a clear picture of racial and economic divides that exist in the one of the world's richest societies along with the genuine struggle of young people coming to terms with who they are and who they want to be.
I think this book would appeal to Grade 8/ Grade 9 upwards, however, suicidal ideation as part of the story makes this book tricky to recommend to this age group, it may be well suited to group reading where this part of the story could be discussed with guidance from a suitably qualified professional. Note: the publisher recommends from 14 years.
HarperCollins AU 2022 #lesbianasguidetocatholicschool Instagram: @harperkidsau