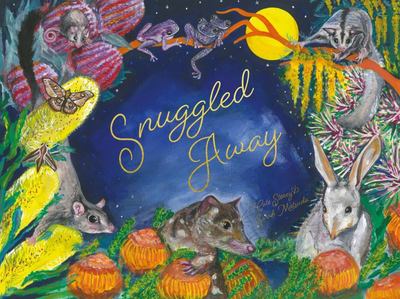 Snuggled Away
Written by Cate Storey 
Illustrated by Sarah Matsuda
Reviewed by Sandy Driessens
Good night little one, snuggle down tight. The animals are just beginning their night.
The night sky is illuminated by the moon and the stars. In the darkness the Australian bush comes alive with nocturnal wildlife.  Whether foraging for blossoms or hunting for prey, the sky, ground and water provides tasty treats for these unique animals. Come and meet these shy daytime hiders, who come out while you sleep.
This first collaboration between author Cate Storey and illustrator Sarah Matsuda, beautifully creates night-time life.  Storey has crafted a rhyming poem that, with imagery and alliterations, beautifully describes the sights, sounds and movements of the animals and their surroundings. .
Matsuda's double-page acrylic spreads capture the feeling of night while illuminating the animals, their food and their environment. Her relaxed brush strokes and vivid colours used on the fauna and flora are in contrast with the dark blue sparkling background of the sky. There is plenty of detail and, if you look closely, one spread has a recognizable Brisbane landmark surrounded by character rooflines … a nod to suburban wildlife.
One of the new titles published by their newly created publishing company Wet Seasons Books, Snuggled Away is characterised by excellent production quality and also has an educational component at the back of the book.
I was drawn to this book by the illustration and believe that children aged 3+ will enjoy this delightful bedtime story. It would also be excellent to share with Early Childhood and School aged children, as an introduction to some of Australia's less familiar wildlife.