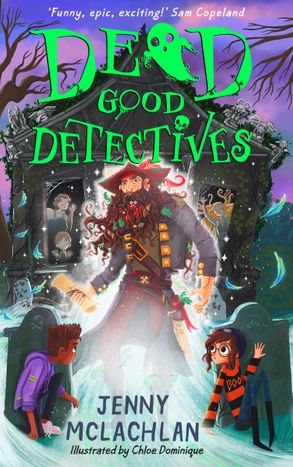 Dead Good Detectives
By Jenny McLachlan
Reviewed by Sarah Custance

Jenny McLachlan is a UK author of over 12 books for children and young adults. Her most well-known series is The Land of Roar trilogy packed with dragons and epic adventures. Dead Good Detectives is the first book in a new series for McLachlan.
12-year-old Sid Jones just wants to go through life unnoticed, having been labelled as 'weird' early on in life, she is now determined to put that label aside and be as 'normal' as possible (at least while people are watching). But when Sid accidentally unleashes the spirit of a 300-year-old ghost pirate who needs her help in finding his lost treasure, she begins to realise that she can't stay hidden forever.
At first Sid tries to ignore Ezekiel (the ghost pirate) and his loud parrot companion, but when she realises that more than one soul is at stake, she decides to turn her whole focus on finding the lost treasure. With the help of her quirky best friend Zen, the group scour the entire seaside town of Fathom hoping to unlock some of Ezekiel's lost memories. With daring night-time escapades, clifftop rescues, and a creepy man who guards the lost souls kept within the Halfway House Inn to deal with, Sid will have to use courage and powers that she didn't know she had to save not only Ezekiel but his entire crew!
This book is an amazingly fun and highly engaging start to what I'm sure will be a fantastic new series. Incredibly detailed and fascinating illustrations by Chloe Dominique placed at different intervals throughout the book help to give the characters a very grounded look and setting. With themes of friendship, family, self-confidence, magic, and lots of supernatural encounters, Dead Good Detectives is a wholly self-rounded book that draws readers in from the very first chapter. Perfect read for lovers of mystery, supernatural, adventure, and some questionable but funny history thrown into the mix!