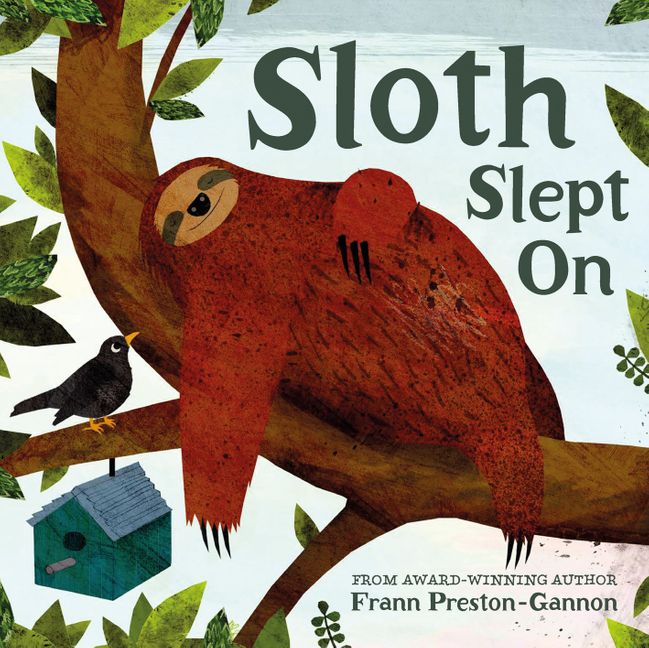 Sloth Slept On
Written and illustrated by Frann Preston-Gannon
Reviewed by Mia Macrossan
I am a great fan of Preston-Gannon's work since seeing her illustrations in I Am The Seed That Grew The Tree, a collection of nature poems selected by Fiona Waters. Frann has written her own stories for children as well as illustrated many works by other writers. Her work is expressive, colourful, full of humour and insight.
Sloth Slept On is a delightful story of three children who find a strange animal in their garden. He is fast asleep and doesn't react to any of their questions. Dad is busy, Mum is reading the paper (whose headline reads ' zookeeper hunts high and low for missing animal) so they look for answers in all their books. After quite a few false starts – is it a pirate? an astronaut? a brave knight exhausted from fighting dragons? –  the youngest finds the answer and has to shout 'Look!' to make herself heard.  They post him off to the rainforest using up 'all the stamps they can find, with some lovely leaves to eat and toys for the journey'. There is a lovely twist when Sloth wakes up in the rainforest.
This is available in both picture book and board book format and will appeal to many children. Sloths are very popular creatures at the moment, along with alpacas and llamas. There is an amusing family dynamic happening where the youngest child is the first to find the answer and instructs the two older ones which is very satisfying for all youngest children and salutary for the others.
Great fun for ages 3+