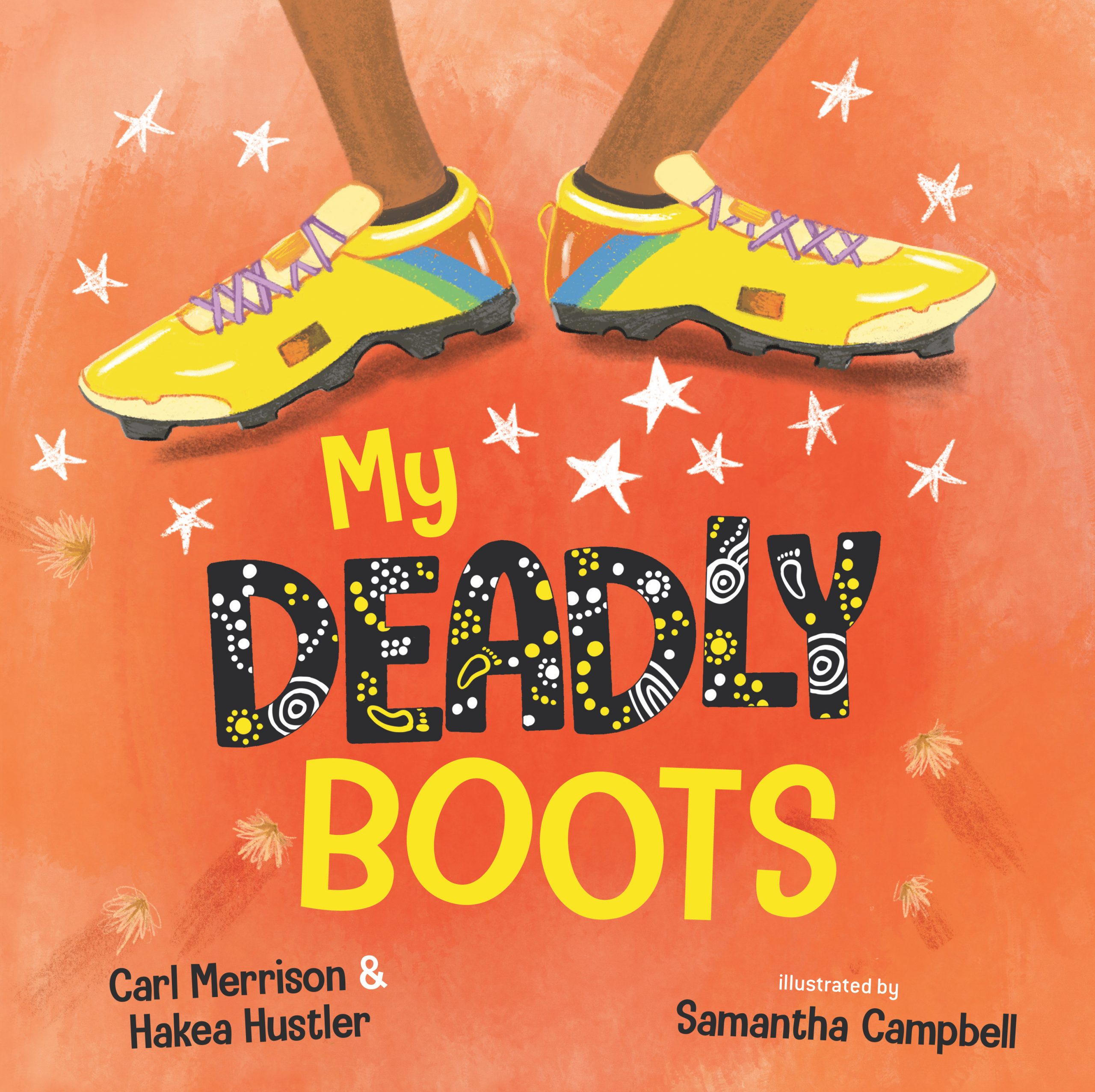 My Deadly Boots
By Carl Merrison, Hakea Hustler and Samantha Campbell
Reviewed by Lara Cain Gray
'Clothes maketh the man' is an old-fashioned proverb, but a sentiment that plenty still embrace. It suggests that people judge you by your clothes, but also that wearing certain garments can bring confidence, belonging or respect. So, what if you saved up all your coins to buy the coolest pair of footy boots imaginable? Would it make you more deadly?
In this story we meet a young boy whose shiny brand new boots are a dream come true. With spikes on the bottom, in bright colours, these are his 'fighting away the blues shoes' that will surely make him faster, happier and too, too deadly. His 'reaching my own goal boots' make him feel like 'somebody'. But when he temporarily loses his boots, his grandfather sits him down to explain that identity is about much more than clothes. 'Boots or no boots, he tells me why my too deadly was always actually me.' This is a story about finding confidence from within, and understanding that connections to family, friends and country are not something you can order in the mail.
The narrative incorporates some Aboriginal English providing representation for those who use it, and education for those who don't. It took me a couple of reads to get a feel for the rhyme patterns, but I soon understood it as a slick rhythm that will lend itself well to reading aloud.
At the same time, this story rewards slow reading with time to consider the subtext of certain scenes. A police officer asks the boy where he got his boots ('My why aren't blackfellas allowed flash boots? boots…'). The boy takes his boots off to help his uncle fish ('My walking in two worlds boots…').
Authors Merrison and Hustler are an award winning team with deep experience in teaching and youth work. This story is located in an unnamed community, but Campbell's illustrations will resonate with anyone who's lived in, or visited, remote Australia – from the light plane that brings the mail to the picturesque local fishing spot.
You could extend the reading of this book by talking to children about what makes them feel confident or empowered, or exploring conversations about what makes you, you.