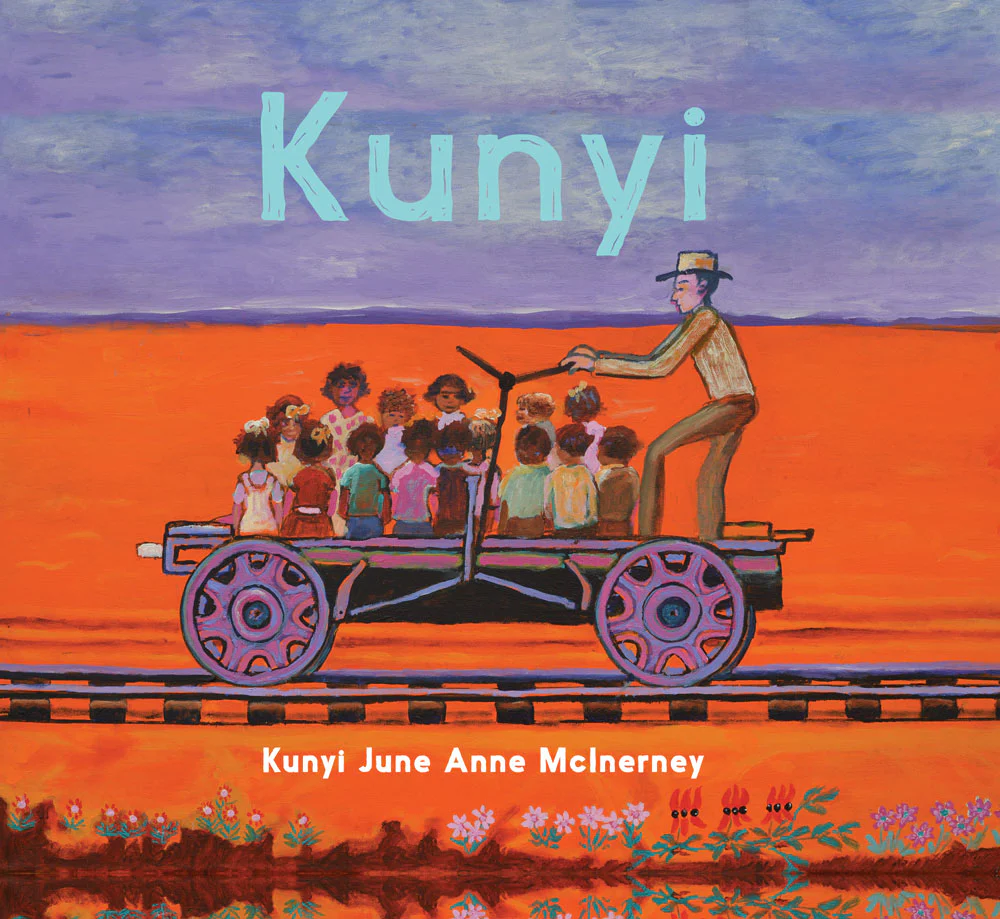 Kunyi
By Kunyi June Anne McInerney 
Reviewed by Lara Cain Gray 
Kunyi June Anne McInerney is a Yankunytjatjara woman, born on a station near Oodnadatta in South Australia in 1950. When she was four years old, she was taken with three of her siblings to live at the Oodnadatta Children's Home. She was renamed Anne. Five years later, she was sent to a foster family in Adelaide, who called her June. This book is her memoir of those years, presented alongside her own paintings and, significantly, under her birth name, Kunyi.
After too many years of silencing, it is important to both survivors and the wider community that we read and recognise the authentic stories of the Stolen Generations of Aboriginal and Torres Strait Islander Australians. These histories are progressively appearing in books across genres, but presenting the devastating experiences of separation, poverty and punishment in a way that is accessible for young readers is a challenge. Many examples are either so scary they might be resisted by readers (or avoided by reading gatekeepers) or are told in metaphors that may obscure the severity of the message. Kunyi's narrative, by contrast, is a clear, factual memoir that describes her experiences with minimal emotive language.
We didn't have toys to play with, we made our own. The boys found old tyres and rolled them across the paddock. 
This straightforward approach leaves room for the reader to respond by contrasting the experiences of these children with those of other children at the time, as well as the contemporary experience of similar things – like games, cooking and family.  For example, Kunyi describes one of the four times she saw her mother before being fostered – a day out organised by the Children's Home:
One day the missionaries asked some of our mothers to take us out […] We went to the dump to find treasures, but we cried on the way because the gibber stones were hot. Our mothers had to tie cardboard around our feet.
The connotations of this scene are appalling, but the descriptions themselves are matter of fact. Additional emotional weight, of course, is delivered in the illustrations, vibrant blends of contemporary and traditional art with a strong focus on the human subjects. Kunyi's art has been exhibited widely. The paintings included in the book were originally part of an exhibition at the South Australian Migration Museum.
This book features lengthy prose, for a picture book, which will be most accessible to advanced readers, or for interactive reading in classrooms or homes. As a biography, it has a slow pace and may not naturally engage readers without some contextual scaffolding, but it will provoke questions. Teachers or carers should also consider cultural sensitivity and inclusion when presenting this book to a group. It could be used as reference material for studies of history, art, or storytelling, with much to teach readers of all ages.
Winner, 2022 Queensland Literary Awards, Children's Book Award