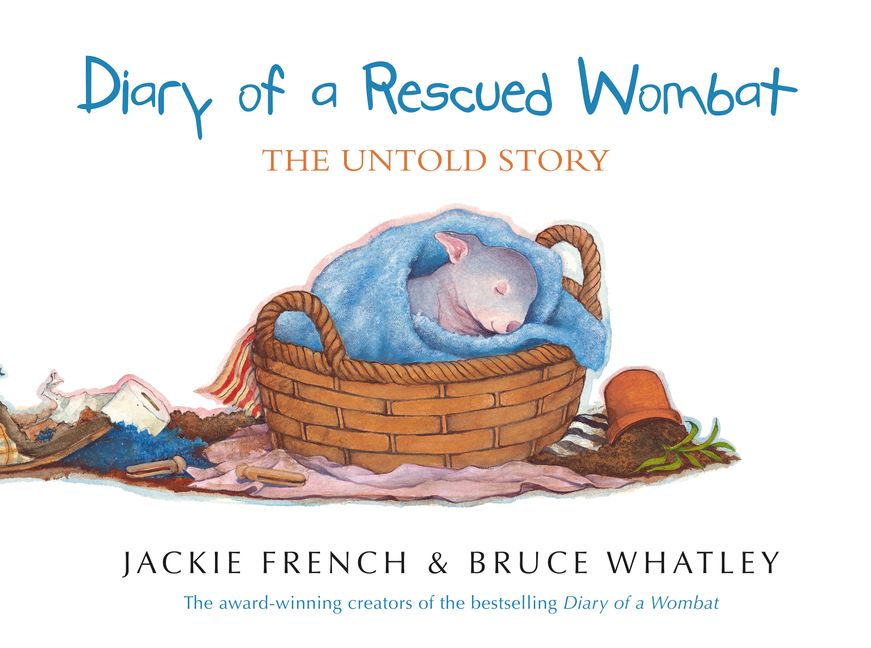 Diary of a Rescued Wombat: The Untold Story
By Jackie French and Bruce Whatley
Reviewed by Mia Macrossan
This is the twentieth anniversary of the publication of the first book about Mothball, the lovable wombat who has stolen the hearts and minds of countless children. It has even been commemorated by the issue of a Diary of a Wombat coin still available now.
Jackie, who describes herself as 'author, ecologist, historian, dyslexic and honourary wombat, has teamed up again with the talented Bruce who says: 'We could never have anticipated what would follow or the international success it (the wombat books) would achieve.'
I was once privileged to be present when Jackie taught a class of entranced pre-schoolers how to speak 'wombat', a skill she learned during her long association with the wombats on her property.
In the Diary of a Rescued Wombat we get the story of how it all started, the (almost) true story of one small wombat who trained her humans and inspired the first and subsequent wombat books.
Her story begins in January when she is very small, scared and lost. Fortunately she is rescued, fed and kept warm. As the year progresses we see Mothball getting more and more confident month by month.
She discovers grass and carrots, and loves both, especially carrots. She sleeps a lot. She also meets new neighbours, explores her surroundings and gets rid of interlopers. There are always carrots, provided she can track down the humans and make them understand her need. It concludes with a memorable visit to the family who are trying to have a little December celebration, complete with paper hats.
Jackie keeps the text brief, almost laconic but each word is evocative of the abbreviated style often used in diary entries: Dug hole. Ate grass. Ate grass. Grass gone. Bored. 
Bruce Whatley's delightfully familiar illustrations add so much humour and feeling, showing Mothball in all her many mishaps and adventures, her quests for carrots and her many sleeps.
There are never enough wombat books in the world and this is an endearing addition to the Wombat books collection, perfect for young children everywhere.