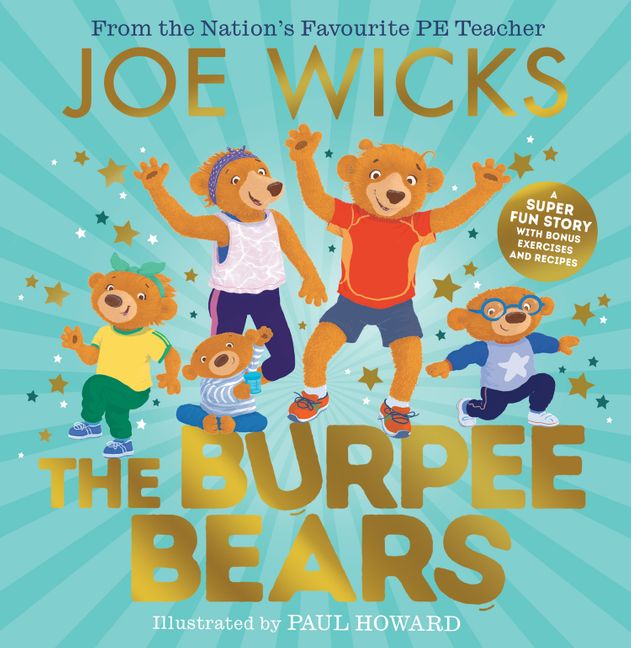 The Burpee Bears
Written by Joe Wicks
c-written by Vivian French
Illustrated by Paul Howard
Reviewed by Margarite Igras
Joe Wicks is well known as an author of several cookbooks as well as the founder of a fitness focus group called Lean to 15. This is his first children's book and together with co-writer Vivian French, and illustrator Paul Howard, he has produced a feel-good story about a family who not only has fun together, but stays healthy together. The book bounds with energy, healthy recipes, exercise routines and some positive modelling from a family of bears.
The Burpee family consists of mother, father, and children, Bella, Frank, and Baby. It is a beautiful day and daddy suggests a big family adventure outside.  With some gentle convincing by mummy and daddy, and solving the problem of the lost shoe and water bottle, the family set off with a, Are we ready? Are we steady? They lunge, frog jump, collect sticks, leaves, and construct a rocket in the woods. And at the end of the day, under the night sky, they reflect on their wonderful day together.
This is a busy book, full of gentle coaxing, alternate suggestions, family rituals, and the idea that a family who plays together stays together. The illustrations reflect family love and caring. The bears are animated not only in their expressions but also in their activities. The reader will be tempted to imitate some of the moves. The text is busy with a variety of fonts and the repetitive Are we ready? Are we Steady?  signals the attention of the characters and the reader for the next activity.
The wake-up and wind-down routine at the end of the book, as well as the recipes, all focus on encouraging children to stay fit and healthy. The whole is a fun and engaging book for younger children aged 3 +.