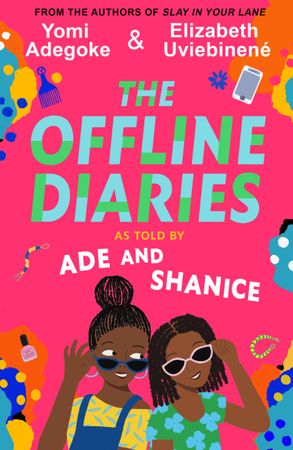 The Offline Diaries
By Yomi Adegoke and Elizabeth Uviebinene
Reviewed by Sarah Custance
Yomi Adegoke and Elizabeth Uviebinene, the award-winning duo behind the critically acclaimed Slay In Your Lane: The Black Girl Bible, are now back with The Offline Diaries: As Told by Ade and Shanice. This new book is a middle-grade novel all about friendship and staying true to yourself.
Ade is furious with her family right now, not only has her new stepdad ruined her life by making them move, causing Ade to have to start at a new school, be further away from her father, and have the possibility of not having any friends for her upcoming 13th birthday, but both of her sisters seem to have fallen under the stepdad's spell and actually think he's nice! The only thing that is keeping her sane is writing in her diary, her one true oasis in the storm. So, when Ade meets Shanice and see's that she has the exact same pink diary, it feels like fate that the two of them are meant to be friends. Shanice has felt truly alone since her mum died, at school she is happy to be the loner girl after a nasty cyber-attack by the 'mean girls' and at home her brother spends most of his time in his room or pretending she doesn't exist outside of it. While her dad is so busy running his hair salon, he seems to be forgetting that she is growing up.
As the two girls begin to bond over their shared love of writing and soon begin to chat online, they are both excited to have a best friend to start the new school year off with. But when Ade begins to fall in with a different crowd and begins to change things about herself, Shanice is left felling more alone than ever. When their IRL (in-real-life) friendship begins to fade into non-existence to be replaced with the online chat version of friendship, both girls begin to drift apart, and when things in the real-world take a turn for the worse it looks like their friendship may be over with for good.
Told alternatively through each girl's diary entries and their combined cyber chats, we see how issues like friendship, family, grief, separation, blended families, bullying, popularity, fights, and attempted reconciliations, are handled with by both Ade and Shanice. Through Ade's diary entries the reader gets to see how much influence popularity can have on an influential young person as Ade begins to align herself with the 'cool girls' and realises how easy it is to get swept up in the flow of clicks and 'likes' to change who she is and abandon her real friends for the sake of perceived internet fame.
With Shanice we get to see how much online bullying really effects the lives of others, and the hurt that follows when it comes from someone who you had thought was a friend. With quirky little illustrations by Tequitia Andrews and Ruthine Burton through The Offline Diaries, it really does feel like we are getting to see snippets of both girls lives through their diaries as well as their online chats.