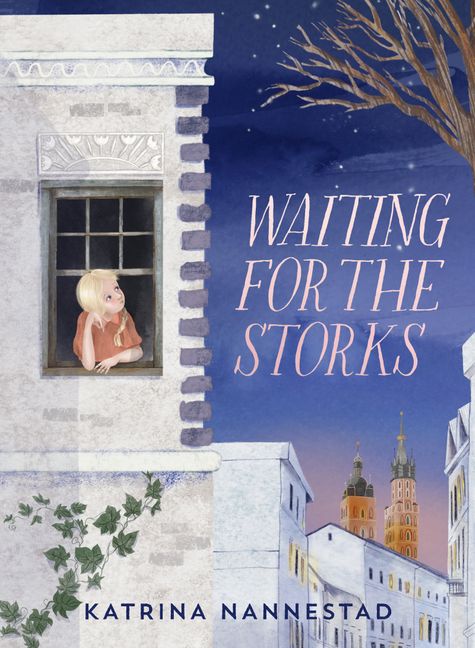 Waiting for the Storks
By Katrina Nannestad
Illustrated by Martina Heiduczek
Reviewed by Mia Macrossan
This is a companion volume to the award winning We Are Wolves and Rabbit, Soldier, Angel, Thief which are also set during World War II and present challenging events from that time from different viewpoints. Katrina is establishing an enviable  reputation as a historical novelist. She has won the  Book Links Award for Children's Historical Fiction and the ARA Historical Novel prize, Children's category for We Are Wolves in 2021 , and the ARA again in 2022 for Rabbit, Soldier, Angel, Thief.
In all three novels Nannestad shows the intense personal cost to children caught up in wars not of their making, forced to adapt and become strangers to their true selves in order to survive. Never more so than in Waiting for the Storks where Zofia Ulinski, a Polish girl from Krakow becomes Sophia Engels, a German girl living in Bavaria.
Nannestad quotes Heinrich Himmler: 'I really do have the intention to gather Germanic blood from the whole world, to rob it, to steal wherever I can', 1938.  This is the motivation for the Lebensborn Program of growing a strong, pure German population. The emphasis is on 'pure' which includes having blue eyes, blond hair, and a carefully calibrated bone structure, as well as intellectual and personality traits. As she says in her Note to Readers: 'The entire process was ridiculous, immoral and disastrous for the children involved.
Zofia/Sophia is one of these children. She is happy with her family until she is taken by the Germans. Her experiences as she undergoes 'Nazification', constantly slapped, locked in a rat-infested cellar for three days for non-compliance, lied to, forced to abandon her friends and more, are both fascinating and harrowing to read. To survive she becomes Sophia, joins the Young Girls' League of the Hitler Youth and shouts 'Heil Hitler' at every opportunity. She forgets her true self, living a fairy tale life of comfort and plenty. However, when she meets Tomasz, the Polish 'slave' at a neighbour's farm old memories come back to fracture this idyllic world.
Nannestad gives this book a happy ending using the  long arm of coincidence whenever necessary. It is improbable but forgivable because children reading this book need a positive conclusion. And who knows, the whole Lebensborn Program seems so unbelievable, straight out of a horror science fiction novel and yet we know it was real, so maybe the happy ending is also real?
Carefully and sensitively written, meticulously researched, the whole is a dissection of how the choices we make every day affect our lives and the lives of those we love. This is the bleakest of these three novels but also the most powerful, most moving and most memorable.
Teacher's Resource: Schools will find the novel  a useful resource for studying WW2 as well as other themes of family, belonging and identity.
This review first appeared in the November 2022 edition of Magpies magazine.
NEWSFLASH! Waiting for the Storks has been

Short Listed

in the