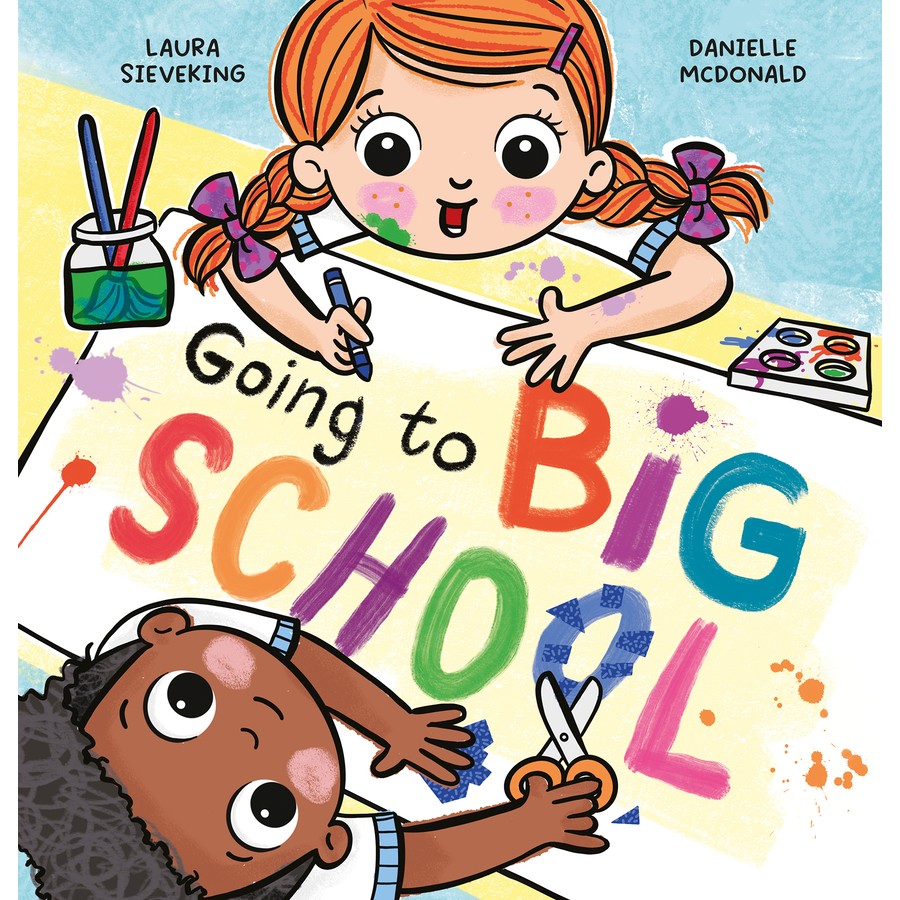 Going To Big School  
Written by Laura Sieveking
Illustrated by Danielle McDonald
Making the transition from home, kindy or daycare to 'big school' is a huge milestone for kids and families alike. My youngest starts high school this year and, to be honest, the memories of those first days of primary school remain pretty fresh and relevant! Beautiful picture books that normalise the experience are a wonderful new year gift, as well as a useful addition to school libraries. Laura Sieveking and Danielle McDonald's new contribution to the space, Going To Big School, is excellent.
Going To Big School is appealingly bright and inclusive, covering all the little-big things that children might find unusual or confronting, like classroom rules, new teachers, older grade buddies, and hats that feel funny. The inclusion of small challenges, like a lunch box with clips that are too stiff for small hands to open, is especially well done, particularly as each such incident comes with a solution (for example, asking a buddy to help).
The story follows two characters – Ava and Jack – who have quite different responses to the newness of big school. Ava has butterflies in her tummy because she is very excited! She can't wait to meet her teacher! Jack, on the other hand, has moths. His tummy is feeling nervous and he is shy about leaving his mum at drop off time. Neither of these is presented as right or wrong, and each child experiences a range of different feelings across the day's activities. Their first day ends with Ava being collected by her after-school babysitter and Jack heading home with his dad and baby sister. Other kids go to After School Care, showcasing a very typical, contemporary combination of arrangements that will be entirely relatable.
The text layout highlights keywords, such as uniform, teacher, fruit break and play, in colour, which could be used in shared reading to extend a conversation about the key moments in Ava and Jack's first day, and how they responded. Importantly, both children finish the day with a smile, looking forward to seeing each other again. The book reassures kids (parents and carers) that while going to big school is, without doubt, a big step for all involved, it WILL all be ok.