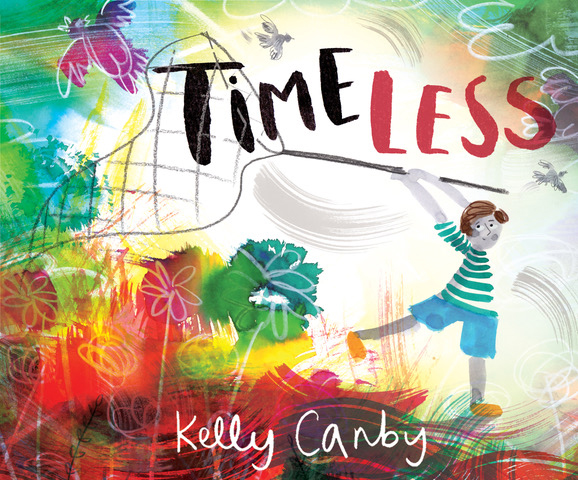 Timeless
By Kelly Canby
Reviewed by Mia Macrossan
Kelly is an award winning artist whose works include The Hole Story, which won the 2018 Western Australian Premier's Book Award for Writing for Children, and Littlelight . She is also responsible for the vibrant and witty illustrations in Jaclyn Moriarty Kingdom and Empires series.
In her new book Timeless she plays with the many ways people talk about time: how people spend it, lose it, don't have any, run out of it, and totally lose track of it.
Emit ( whose parents turned back time to name him) is a little boy who starts thinking about time He's been told time passes you by so he waits and watches but all he sees are cars and birds and people. Time's precious but he discovers it is not available in an art gallery, bank or museum. Finally Emit learns that time is something that you have to make yourself if you want it, with the emphasis on quality time.
Kelly's zany and colourful illustrations are what make this clever  exercise in abstract thinking understandable and appealing to young children. It's full of puns and metaphors that will get them thinking about what time is and how they spend their it. The endpapers are a particular delight if you are fond of puns as they are peppered with shop signs each and everyone of them a play on words.
Teachers will find much to work with here as it offers scope for language studies, humanities and the visual arts while children will enjoy the vibrant artwork and its playful text.