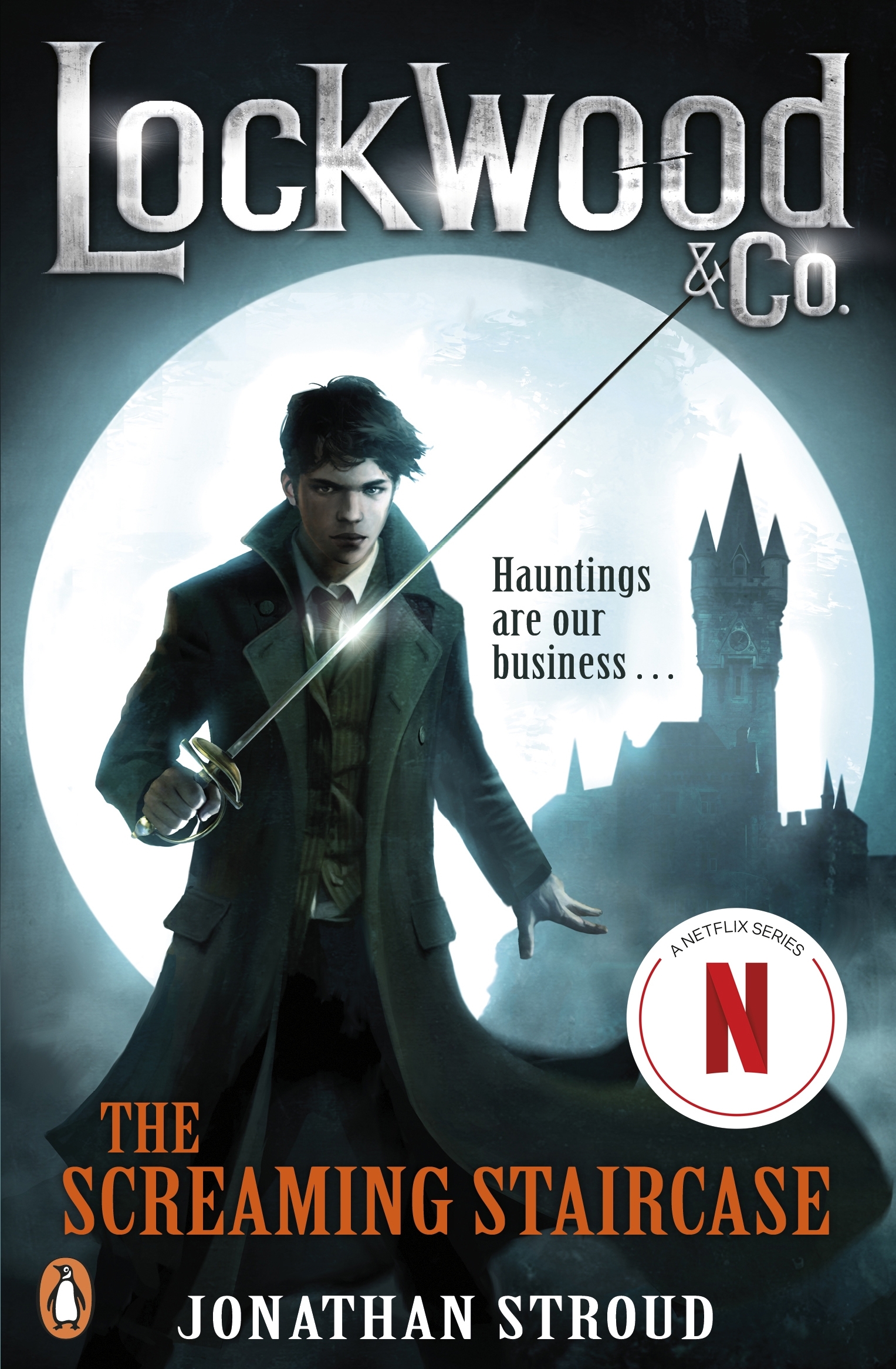 The Screaming Staircase: Lockwood & Co Book One
Reviewed by Mia Macrossan
Jonathan is has written many original and engaging fantasies such as the The Bartimaeus Quartet for middle grade, Scarlett and Browne for older readers and the Lockwood & Co series for upper middle grade/ young young adult (it has ghosts).
The first Lockwood book The Screaming Staircase was published in 2013 to much acclaim and was followed by The Whispering Skull, The Hollow Boy, The Creeping Shadow, The Empty Grave and The Dagger in the Desk. It has now been made into a successful Netflix series and a new tie-in edition has just been published.
In a world overtaken by ghosts of varying degrees of malevolence only psychically gifted teenagers can overcome them as adults lose the power to see and hear them, although anyone can be killed by a powerful ghost. Lucy Carlyle joins Anthony Lockwood and his partner George Cubbins to form a small but enterprising psychic investigation agency known as Lockwood & Co. Lucy is a sensitive- she can feel  and hear what others cannot, Anthony has sight, he can see better than Lucy and is a decisive and inspired leader -most of the time, while George, as well as being a sound all rounder has a passion for research. He digs up facts and seemingly extraneous information which helps them uncover the meaning and significance behind the mysteries they are sent to solve.
Stroud has taken care with establishing this dangerous world but the three agents always go armed into combat with rapiers, bombs and their sharp intellects. The action is non stop and sometimes quite scary for the very young. In the hands of a lesser writer all this ghost and rapier stuff might become a bit silly but Stroud makes it all very real, very dangerous and very exciting. He takes the time to develop atmosphere, to give us insight into the three young protagonists as they spar with their enemies and with each other. Stroud himself says in his introduction to this edition 'the relationship between Lucy and Lockwood is the beating heart of the story'. He is also very funny and shows these adolescents in all their delightful messy glory.
The Netflix series is excellent in bringing this intricate and elaborate world to life  and it is fun to watch but nothing beats the glorious experience of delving into these books and immersing yourself in the danger and darkness of the adventures of Lockwood & Co, a very addictive series. And you can read them again and again, they never disappoint.