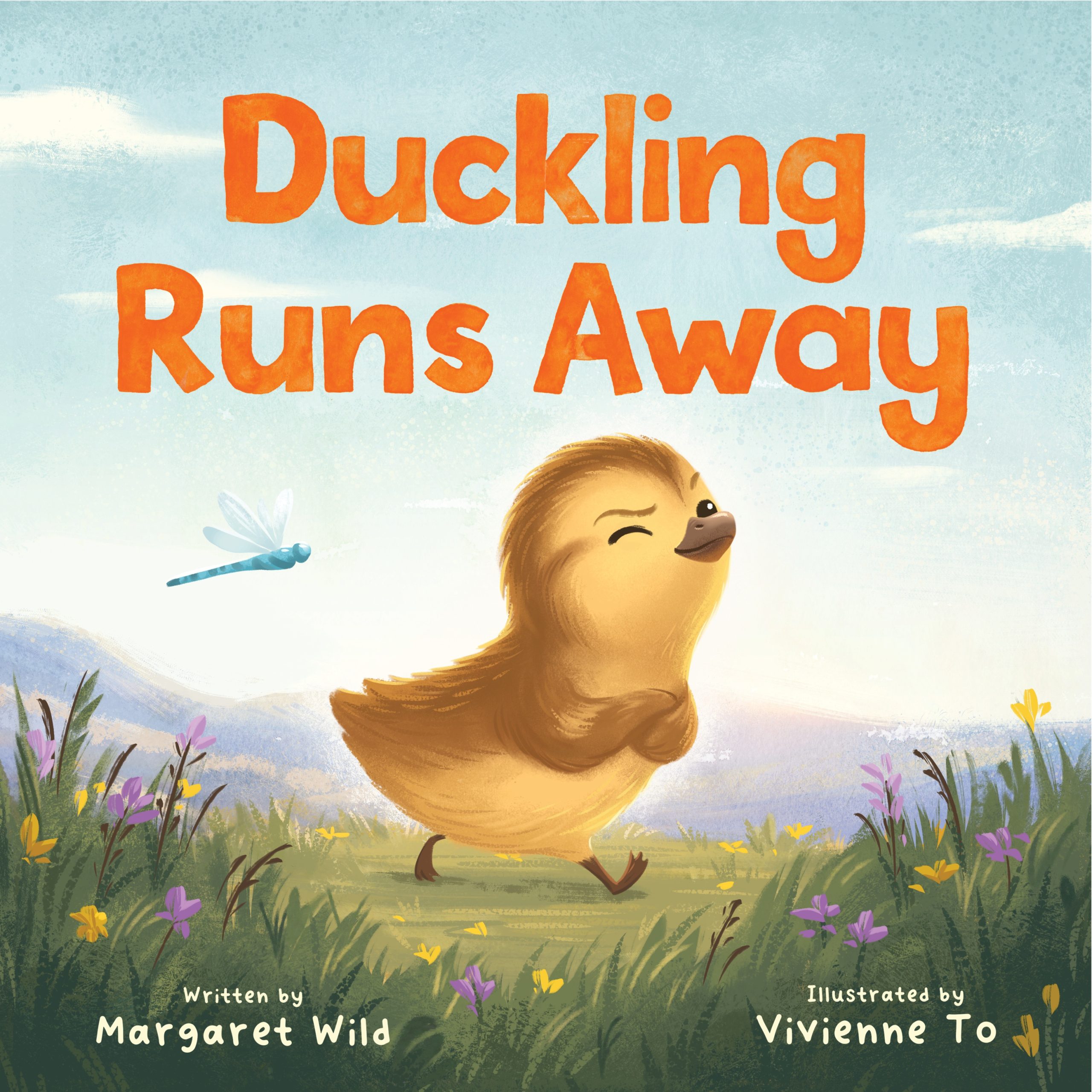 Duckling Runs Away
By Margaret Wild and Vivienne To
Reviewed by Mia Macrossan
Here is another miniature masterpiece from Margarite Wild who has been writing for children for ever and never gets it wrong. She has published over seventy picture books for young children, been awarded the Nan Chauncy Award, the Lady Cutler Award and the CBCA Lifetime Achievement Award for her contributions to Australian children's literature. This is her second collaboration with Vivienne To, previously they teamed up for The Sloth Who Came to Stay, a lovely story about a sloth moving in with a fast paced family.
Duckling Runs Away is about a cross little duck who squabbles with her mother. 'I'm running away' said Duckling and off she stamped… I'm never coming back. Never ever!'. Off she goes in high dudgeon refusing invitations from kittens, puppies, lambs, piglets and more to join  them in their various activities because, as she keeps repeating 'I am running away'.
But then comes a point late in the day when it is getting dark when she can't remember why she is running away. She does an about turn, quickly making her way past all the young animals who are now sleeping in the arms of their mothers. It is no surprise that she finds her own mother waiting for her with wings outstretched ready for a big hug.
This charming story about love and trust will resonate in any family with young children. There is plenty of opportunity to extend word knowledge with important words in bold coloured font and readers can also expand their knowledge about all the different animals featured. But it is the central theme celebrating the unconditional love between a parent and a child that is the core of this deceptively simple story.
Beautifully and wittily illustrated is soft rich colours by Vivienne To, Duckling's expressions are hilarious. She has managed to make all the baby animals appealing in their own particular way.
For children aged 3 – 6.