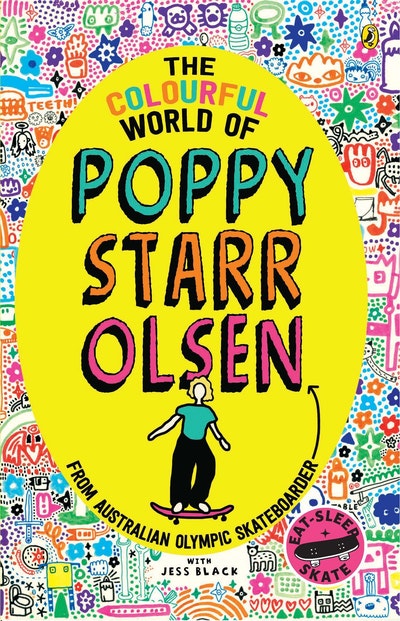 The Colourful World of Poppy Starr Olsen
By Poppy Starr Olsen and Jess Black
Illustrations by Poppy Starr Olsen
Reviewed by Sarah Custance

Poppy Starr Olsen is an Australian Olympic skateboarding champion. She was under 14s world champion and the first Australian woman to compete at the Summer X Games. The Colourful World of Poppy Starr Olsen is based on Olsen's childhood growing up on Bondi Beach Sydney and her mixed love of skateboarding and art.
12-year-old Poppy loves living in Bondi, she can swim, surf, skate, and cliff-dive with her family whenever she has the time. Poppy also loves art, so she is especially excited with her new school assignment all about making a piece of community artwork that inspires people to look at things from a different perspective.
When a skate competition that will take place at her own local skatepark is announced, Poppy thinks that things couldn't get any better. That is until she finds out that there is no separate category for girls in the competition and that a local counsel member is out to stop not only the competition, but to close the park for good. Can Poppy find a way to inspire others with her art, challenge the competition board to list a girls category, and go up against city counsel to stop the skatepark from being closed?
The Colourful World of Poppy Starr Olsen teaches readers that being young shouldn't stop you from trying to make a difference. The book is about following your passions and dreams, and inspiring a new generation of young skateboarders (especially girls). Full of quirky illustrations and skateboarding facts, the story is engaging and quite fast-paced. It also lightly deals with the injustice and inequality that female athletes are often faced with, along with the importance of debunking the negative stereotype that is associated with skaters and skateparks. In The Colourful World we also see the importance of reliable friendship and the unexpected benefits of having a 'weird' family to count on. This is a must read for any aspiring female skater out there.