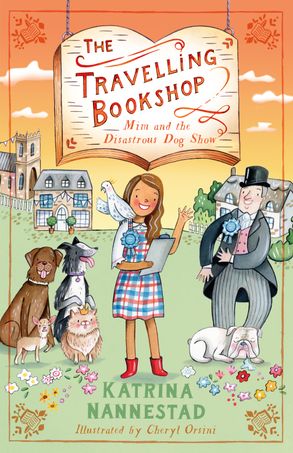 Mim and the Disastrous Dog Show (The Travelling Bookshop, #4)
By Katrina Nannestad
Illustrated by Cheryl Orsini
Reviewed by Sarah Custance

Katrina Nannestad is a multi-award winning Australian author with over 20 books to her name. Mim and the Disastrous Dog Show is the 4th instalment of The Travelling Bookshop series.
10-year-old Mim loves traveling all over the world with her dad and little brother in their magical bookshop. The family never knows where they will end up, just that it is always where they (and the bookshop) are needed the most. This time the family finds themselves in the Cotswolds, the little town they are in is setting up for a dog show  which Lord Melville-Timms is to judge.
The main problem is that he has never judged a dog show before and he is required to do a demonstration for the dog-obedience trials with his own dog, the rather disobedient Bubbles. Mim knows that they are there to help Lord Melville-Timms teach Bubbles to be obedient, but her dad keeps giving him the wrong books! To salvage the dog show the group is going to need ingenuity, childish abandon, a pinch of magic, and lots of books.
There is no denying that The Travelling Bookshop is a sweet and utterly charming series for younger middle-grade readers. The readers are always shown that not all is as it seems and to remember to keep an open mind about the people you meet, as you never know wat is happening in their lives.
By book 4 it would have been great to see more character growth in Mim, rather than just having her repeat the same mistakes.  Mim could actually try to see if she can use the bookshop's magic to help find the books that people truly need (not just the ones they think they want), and to have more faith in her father by now.
As always, the book is filled with lovely black and white illustrations by the talented Cheryl Orsini that helps to add to the overall charm of the book. Mim and the Disastrous Dog Show is an enjoyable addition to The Travelling Bookshop series, a heartily fun read with wonderful writing.