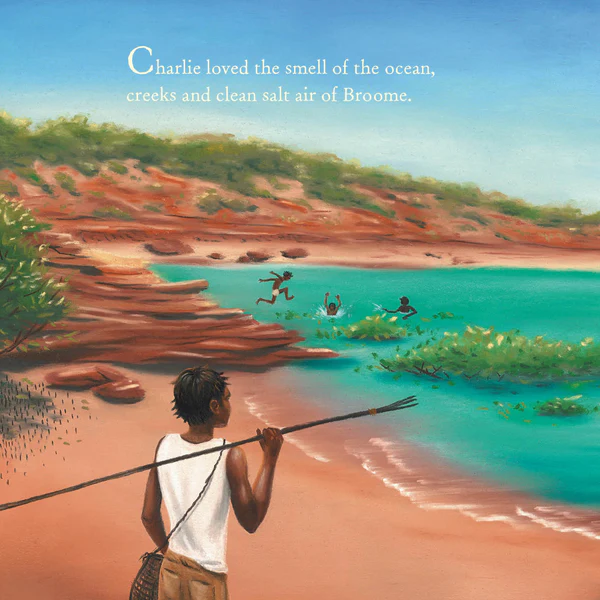 Charlie's Swim
By Edith Wright
Illustrated by Charmaine Ledden-Lewis
Reviewed by Mia Macrossan
Edith proudly acknowledges her Bardi heritage and this story is about her uncle, Charlie D' Antoine, a Bardi man who grew up near Ardiyooloon.  Charmaine, an artist and activist, is a descendant of the Bundjalung people.
We meet young Charlie in Broome, enjoying beachcombing, fishing and living with his large extended family. It's 1942 and Charlie's job is to clean and fuel the seaplanes that anchor in the bay. At this time more than 1000  refugees from the Dutch East Indies, many in flying boats, passed through Broome, a major refuelling point. In March 1942 these boats were attacked by Japanese fighter planes and many women and children jumped into the water to try and escape. Charlie dived into the water as well but stopped to rescue a mother and her child, swimming with them and succeeding in getting them to shore despite the powerful tides.
This book tells his inspiring story in carefully chosen simple language that makes it accessible to young children. There is excitement and tension and a happy conclusion even though we, as adults know that more than 88 people were killed that day.
In 1944, Charlie was awarded a Certificate of Merit from the Royal Humane Society of Australasia in recognition of his efforts and he was awarded four medals for bravery from the Dutch government.
Charmaine's illustrations  reflect the lush colours of the landscape, the rich browns and greens contrasting with the fire and fury of the attacking planes.
An interesting book telling an important story about our past.