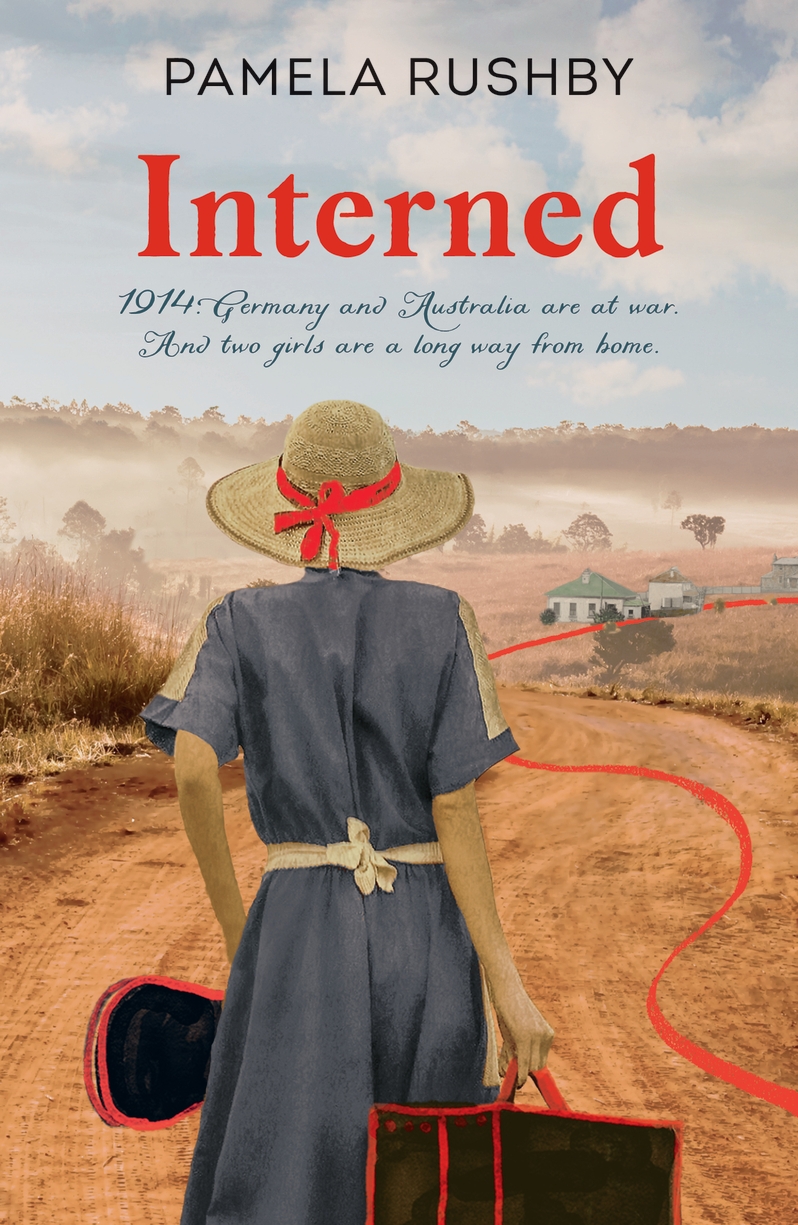 Interned
Reviewed by Sarah Custance

Pamela Rushby is a well-known in Australian children's literature with over 200 books to her name. Her latest middle-grade novel Interned tells the stories of two young girls with very different backgrounds and how they meet at an internment camp for Germans in Australia during the Great War.
Gretta lives a lavish and privileged life with her parents in Singapore where she hopes to carry on her music studies to become a violinist. Tilly lives in the apartment over her fathers bakery and has a very average Australian life with her younger brother and parents in Brisbane. When war breaks out and anyone of German descent is deemed an 'enemy alien' (even if they have been naturalised) both girl's lives change drastically . Gretta and her parents are detained in Singapore before being shipped to an internment area in Bornabba, NSW. At the same time while trying to understand her mixed emotions about the propaganda filled posters around her neighbourhood Tilly is devastated when her father is also detained and sent to Bornabba.
Gretta is furious at the life she has lost and yearns for the war to be over so that she can continue on her musical path. Tilly is trying to hold her family together, which becomes more difficult as her mother can't cope and takes the family to join their father in Bornabba. At first the two girls don't get along, they don't even speak the same language, but as the war continues outside of the camp, both the girls and the other internees learn to manage. With hope of freedom continually draining, their only choices are anger and disobedience or acceptance of their circumstances while waiting for the world to settle.
Pamela's writing often shines a light on little-known events in history and Interned is no exception. The reader is shown what life was like for German descendants during the early stages of the war and the prejudices  they faced on a regular basis as well as what life was like in the fairly relaxed internment area of Bornabba. With no unnecessary frills, Rushby stays true to this challenging period of Australian history, showing the harsh realities of living in that era. Reading the book through the eyes of two very different girls highlighted the  contrasts in how families were treated depending on their background. As Gretta and Tilly develop empathy for and understanding of each other and their different situations so does the reader.
Interned is absolutely worth the read if you are interested in learning more about a rarely mentioned part of the Great War. Another gripping novel that deals with internment in Australia is Haywire by Claire Saxby.
NEWSFLASH! Interned has been Short Listed in the