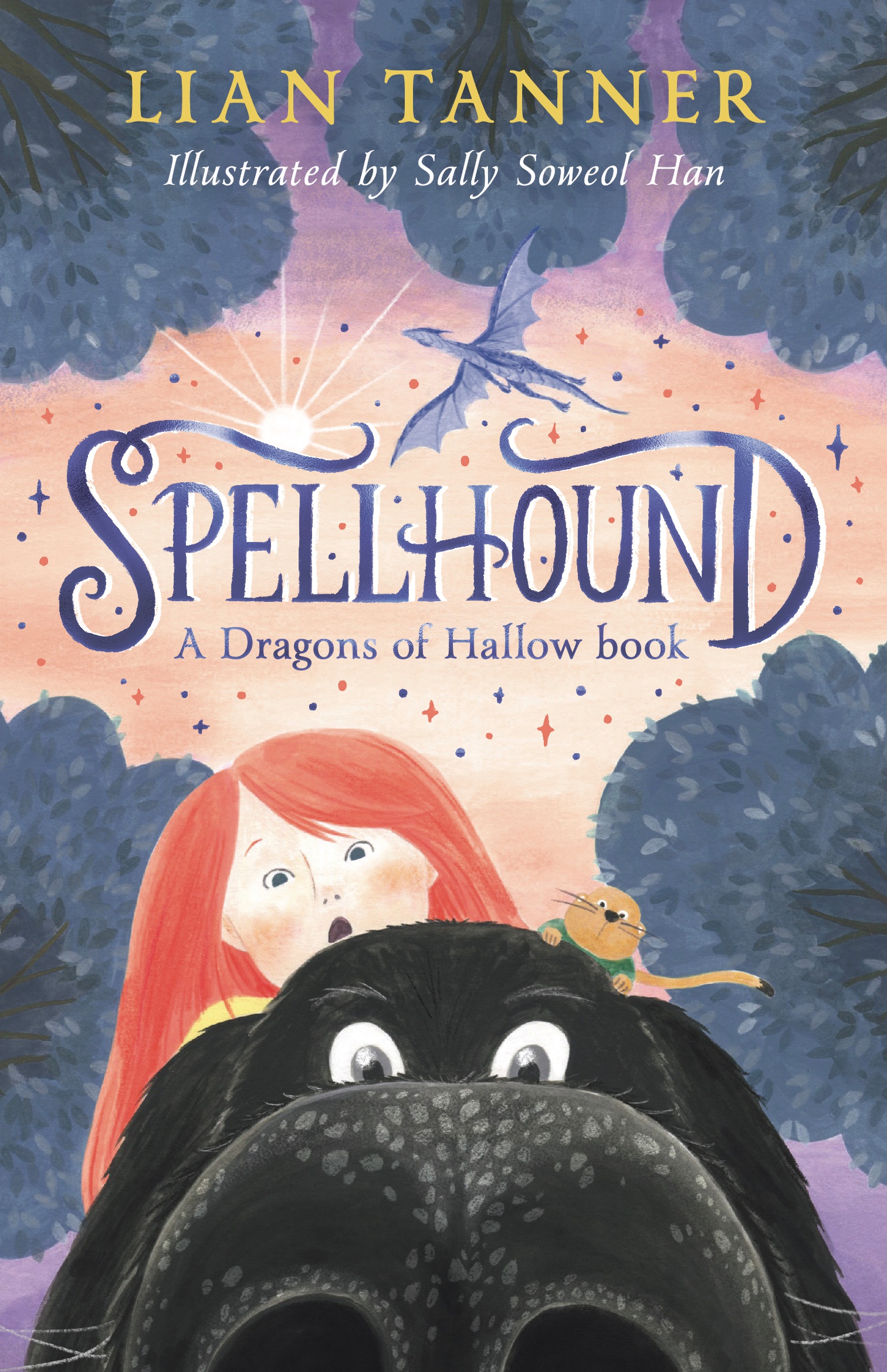 Spellhound: A Dragons of Hallow Book 1
By Lian Tanner
Illustrated by Sally Soweol Han
Reviewed by Mia Macrossan
Lian is a prolific writer of outstanding children's fantasy. Her books are enjoyable on many levels as she puts her always varied cast of characters in interesting conflicts, has a sense of humour and her plots are satisfyingly complicated but never silly.
Lian's books include the best-selling Keepers trilogy, the Hidden series, the Rogues trilogy, A Clue for Clara, Rita's Revenge. She has won many awards, including two Aurealis Awards for Best Australian Children's Fantasy, a NSW Premier's Literary Award, a Tasmanian Literary Award, and a Sisters-in-Crime Davitt Award for Best Children's Crime Novel.
Spellhound introduces us to the world of Hallow and some fascinating characters who each have a secret. Flax is a a minch- wiggin, a small pixie like person, not very brave, who has whiskers and a tail and the unfortunate title of Destroyer of Dragons. Felicia is  nine years old and the queen of Hallow who is intensely bored by all the dreary work her bossy aunt makes her do. And finally there is the Spellhound of the title – he's still a puppy, very young, very gormless and very magical. All of them are important to the three great secrets in the land of Hallow.
When they team up together they quickly develop friendship, trust and loyalty and become a force to be reckoned with as they deal with dragons, kidnapping, deceit, theft,  magic and more. Lian is as inventive as ever. A refreshing twist in this tale is the mischievous narrator who is also a character in the book, although you don't find that out until near the end. This person talks directly to the reader, like someone reading you a story and purposely keeping you in suspense, threatening to stop at the most exciting bits, thus increasing the tension as the reader gradually discovers what the great  secrets are.
The  black and white illustrations by Sally Soweol Han put a face and place to the story and are whimsical and delightful. I wish there were more of them. This is such an enjoyable read, the created world original but full of familiar story tropes – dragons, witches, talking swords – I can't wait for the next instalment.