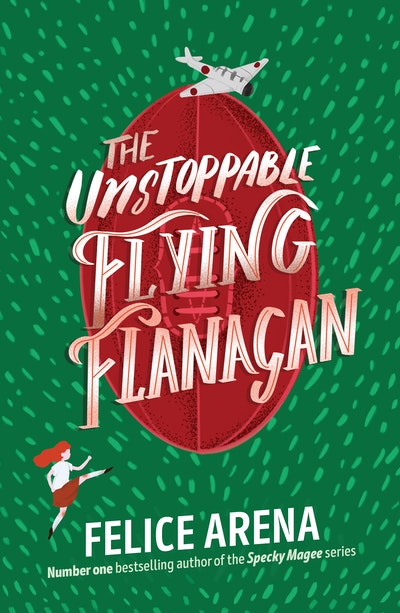 The Unstoppable Flying Flanagan
By Felice Arena
Reviewed by Sarah Custance

Felice Arena is the Australian award-winning author of books such as The Boy and the Spy, Fearless Frederic, and A Great Escape, along with the Specky Magee series. An avid football fan and a  keen interest in writing about wartime eras has lead to Arena's newest middle-grade novel The Unstoppable Flying Flanagan.
Maggie Flanagan is a 12-year-old girl living in 1942 Melbourne. Her older brother is fighting in the war but it all seems so far away from Maggie and her normal life as she's more concerned about the football season possibly being cancelled rather than the war. That is until she sees an enemy spy plane early one morning while practicing football in her secluded backyard and American soldiers start to casually roam the streets. Even though the war now feels a lot closer to home for Maggie, what can she do?
When her school decides to hold events to help raise funds for the war effort, Maggie comes up with her own idea of a women only football match! With more and more women working men's jobs while they are away at war, who is to say that women can't also play football? But getting other girls and women to not only admit that they also like football is hard enough, yet alone get them to actually play it in front of spectators. Breaking all of the rules Maggie wants to prove to everyone that women can play just as well as men, if not better!
A fun and engaging read, Felice Arena has created a wonderful book that truly is a brief look back in time. In 1942 Australia (and the rest of the world) was facing major changes when women took up the jobs of men and began to stir up the pot that would lead to massive social changes and women's movements. Steeped in historical moments, you don't need to be a football fan to enjoy The Unstoppable Flying Flanagan, as there is humour, heart, challenging ideas, and interesting social easter eggs throughout (like Mrs Kelly who owns the Corner Store, and Maggie's best friend George and his family). Clearly a lot of work and research went into writing this book to have it feel so naturally fitting in its time period, and with football playing nuns, and gender swapped billycart racing, what's not to love. It is also interesting to read about just how far Australia has come in the last 80 years.
NEWSFLASH! The Unstoppable Flying Flanagan has been long listed in the