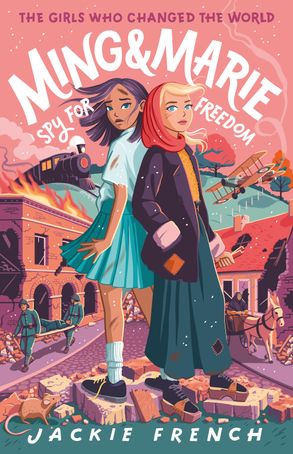 Ming and Marie: Spy for Freedom
By Jackie French
Reviewed by Sarah Custance

Former Australian Children's Laureate, Jackie French is a fundamental figure when it comes to children's literature within Australia. Whether she is writing her Diary of a Wombat picture books or critically acclaimed middle-grade novels, there are always facts and history to be found. Ming and Marie: Spy for Freedom is the second book in The Girls Who Changed the World time-slip series.
12-year-old Ming finds both herself and her twin brother Tuan transported back to 1916's occupied Belgium. Saved from a burning building and the German soldiers who set a whole village on fire, Ming finds help from daring and cunning Marie, a real life spy even though she too is also only 12. Joining in the resistance efforts, Ming finds that being a spy isn't all dangerous missions to blow things up (though that does occur on occasion) but is a lot more knitting coded messages, watching soldiers and trains, and purposefully not knowing things than she expected.
Soon Ming overhears a conversation about a weapon that could change the course of the war if left be and has to make the choice of either telling the resistance and putting her own life and others at risk or keeping the information to herself and possibly changing the outcome of the war. Ming wanted to see how women and girls have changed and impacted history throughout the years, she just wasn't sure if she was ready to face the change herself.
Steadfastly set in WWI Belgium the reader gets a look into what daily life is like living in an occupied country during the war. That some things never change (the front porch still must be swept every day) and other things change severely (you grow quite used to mice and pigeon stew). Throughout it all there is a sense of perseverance and determination that even the smallest action can have great consequence. Jackie French always fills reader's minds with stories based in facts and many MANY food references for the time period, so if you enter into Ming and Marie with an open mind and an already full stomach, you will always learn new things in these engaging historical fiction novels.
NEWSFLASH! Ming and Marie: Spy for Freedom has been long listed in the