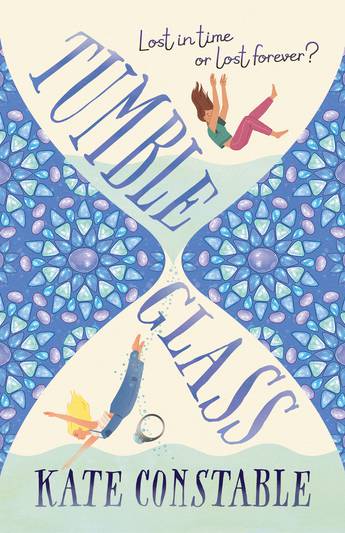 Tumble Glass
By Kate Constable
Reviewed by Sarah Custance

Kate Constable has written almost a dozen books for middle-grade and YA audiences, including the CBCA award-winning book Crow Country. Tumble Glass is her newest novel about a girl who can slip through time.
Thirteen-year-old Rowan has always felt a special connection to her house, feelings of the house's pleasure or unhappiness are common. One day Rowan and her older sister find a blue glass ring and the two are sent back in time to 1999, same house, different year. While Ash, Rowan's sister, is happy to believe that it is all a dream and to enjoy the party currently being held, Rowan knows that this is real and searches for a way back.
When Rowan accidently meddles in 1999, she comes back to her current time period to realise that her sister is missing, stuck in the past. With the help of their slightly magical family friend, Rowan will travel to different time periods all in the quest to save her sister and every day that passes is another day closer to never having Ash back.
Tumble Glass is a unique time-slip novel as most of the story stays in the current time period with the main character traveling to multiple times for short interactions with the past. With a thirteen-year-old character and some heavier themes, this book is excellent for readers emerging from middle-grade novels and moving on to YA. While the writing and plot can feel a bit laboured at times, time-slip enthusiasts will still find Tumble Glass to be an enjoyable and magical read with strong themes of sisterhood and history.