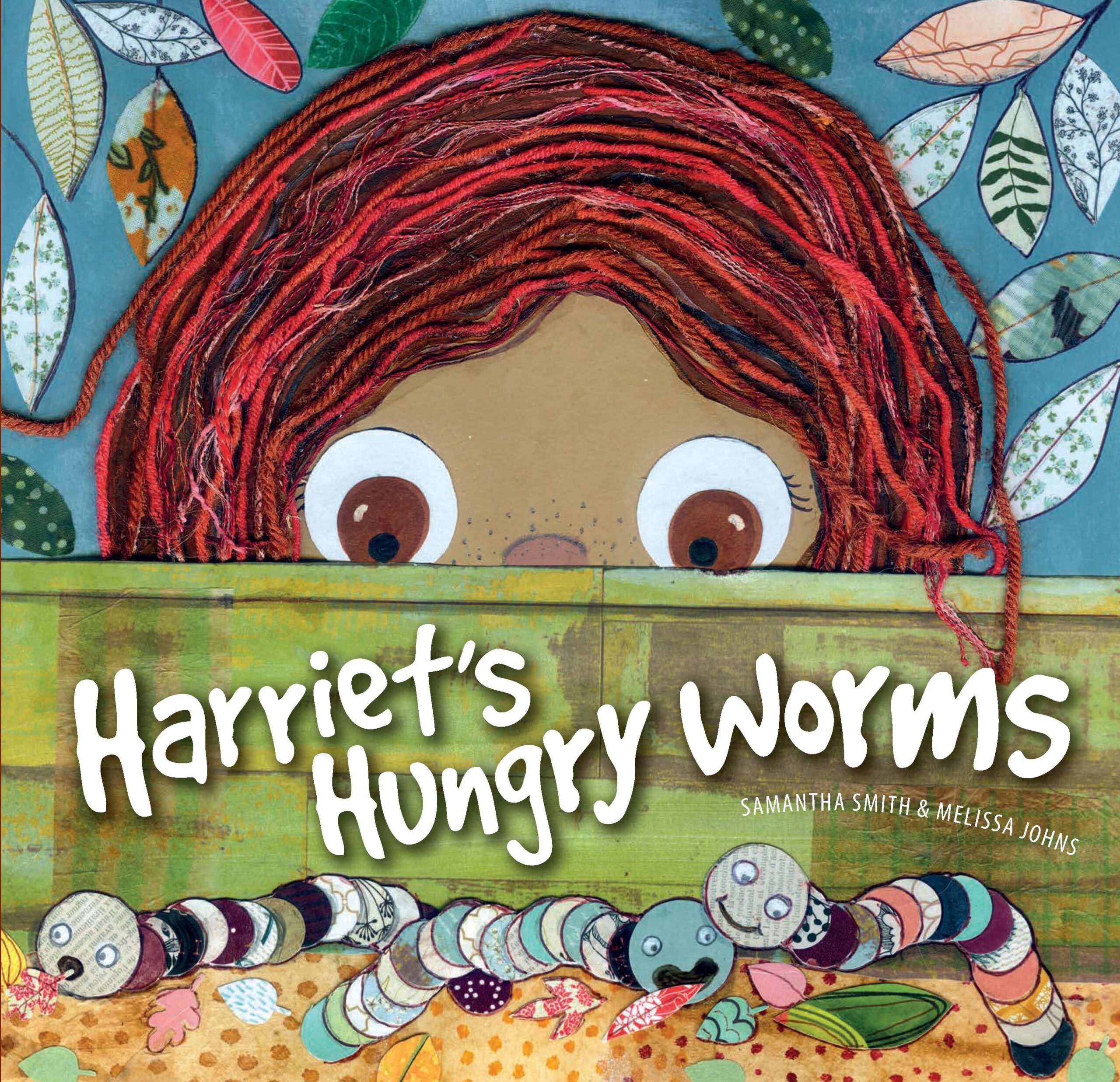 Harriet's Hungry Worms
By Samantha Smith & Melissa Johns
Reviewed by Mia Macrossan
This is Samantha's first eco picture book which she hopes will inspire readers to become young 'wormwarriors'. Melissa is an artist and illustrator whose artworks are predominantly made of recycled materials.
In Harriet's family her brother walks the dog, her sister feeds the chickens and she has to make sure the 983 worms that live in the big green box in the backyard are fed. She gives them all sorts of stuff – muesli, herbal tea bags, some wild weeds, out of date tomato relish, even some newspaper. She watches and waits hoping for something exciting to happen but the worms just slither around munching on everything. Then Harriet discovers the little tap that releases the 'worm wee' which helps her to grow the 'biggest, tastiest vegie patch ever!'
Melissa uses mainly recycled papers in her artwork but has been known to put in the occasional recycled teabag. Added to these are the outside of coffee cups, wrapping paper, gift bags and serviettes. For Harriet, her family, and their dog she also used recycled wools and cottons. Once all of the recycled pieces are collaged in place, the finer details are added using paint and inks. The result are layered textured pages rich in colour and detail.
This charming tale cleverly incorporates all sorts of teaching in subtle ways for young children interested in learning about sustainable gardening. While full of life lessons it doesn't preach. Discussion topics include family responsibilities, days of the week, the food we eat and how worms work. There is a fascinating 'worm facts' at the back of the book for those who want to learn more.
A very accessible story that encourages children to develop an interest in their own garden or their school vegie patch if it has one. The extensive and excellent Teacher's Notes are really worth exploring.