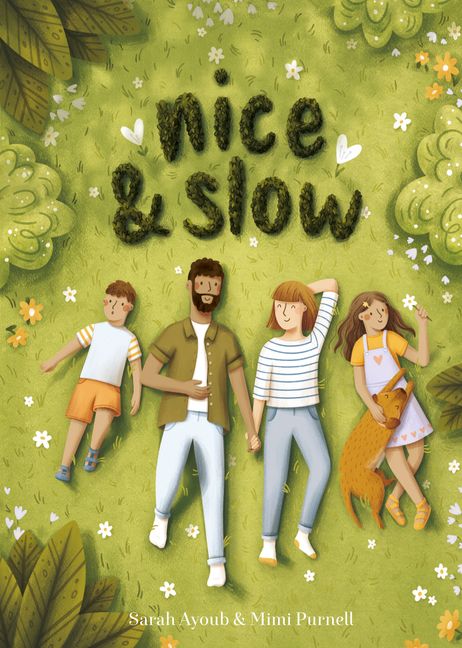 Nice and Slow
Reviewed by Margarite Igras
We know how busy life can be and the importance of having time out to reset and spend quality time with the people we love. Well, take note of this family. They have made a firm decision to take today nice and slow, and to have a break from the go–go–go.
The title sets the pace, with a family, of mum, dad, brother, sister, and pet dog, all lazing in the grass surrounded by flowers and greenery. We are invited into their home to see how different the day will be: Spend some extra time in bed, enjoy a special breakfast, lounge about and rediscover what we love about each other. They read, repair, plant, meditate, chill, play, cook and at the end of a quality day together, enjoy the evening sky.
The rhyming text adds to the mood of relaxation and doing things differently, with only a few words on each page. The illustrations are stylised and the colour palette consists of soothing, calm, earthy tones. The animation is not in the facial expressions of the family, but in the activities they pursue. From lounging, dancing to music that's loud-loud-loud, cooking a meal together, building a living-room cushion fort, or meditating on a rug.
We can admire the decision this family has taken, and to introduce the notion to 3+ year olds that life doesn't have to be all go-go-go all the time. Family quality time together can get our energy levels back on track and revive the joys and fun that spending time with the people we love can bring.