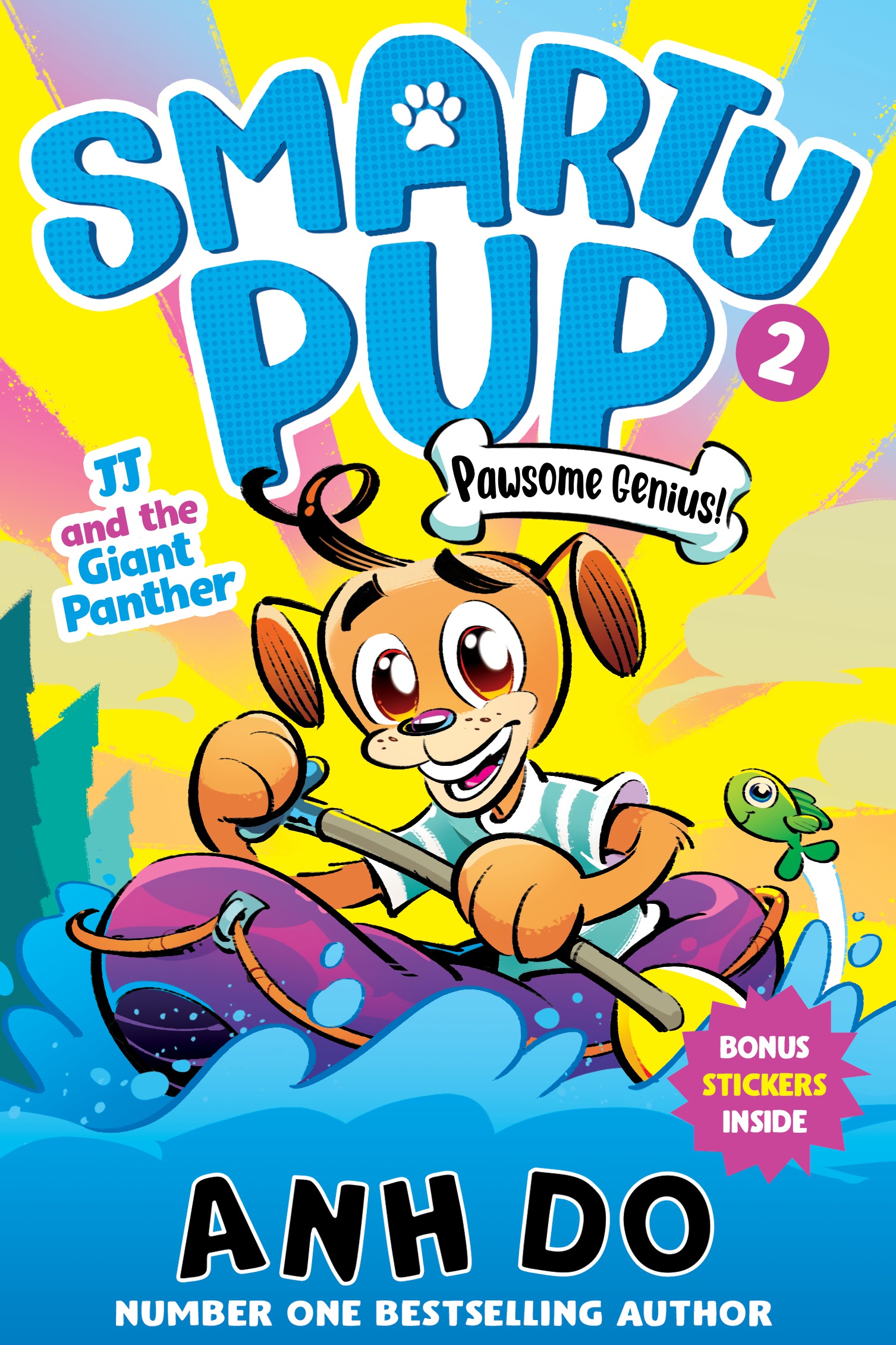 JJ and the Giant Panther: Smarty Pup 2
By  Anh Do
Illustrated by Anton Emdin
"'Okay, okay!' said Mr Hosking. 'Fine, JJ can come on school camp. But he has to be on his absolute best behaviour!'. 'Deal!' promised JJ. JJ the genius pup has Lily and her teammates rolling around with laughter at his antics, until glowing eyes start appearing in the shadows . . . Could it be the legendary giant panther?"–Publisher.
Reviewed by Eva B, aged 8.
Eva likes the Baby Sitters Club and Diary of a Wimpy Kid and doing gymnastics.
Who is your favourite character? My favourite character is JJ (aka Smarty Pup) because he is confident, bold and thinks he is super brave even though he is afraid of cats. My second favourite character is Lily because she is kind and likes adventures.
What was the most interesting/exciting/suspenseful moment in the story?

When the kids were walking back to camp and thought they were seeing a panther but it was just the camp conductor. She had torches on her helmet that looked like big eyes.
How did you feel about this story? Did it make you laugh/cry/ want to throw it across the room?

Some of the jokes in the book made me laugh, like when Lily's dad took the bins out in his underwear.
Would you have changed anything in the story and why? 

No because its really good already.
To whom would you recommend this book?

Probably from  ages 4 to 7
 How many hearts out of five?

  ♥ ♥ ♥ ♥ A great book, I recommend it
♥ = Didn't finish it
♥ ♥ = Ok, but not for me
♥ ♥ ♥ = I enjoyed this
♥ ♥ ♥ ♥ A great book, I recommend it
♥ ♥ ♥ ♥ ♥ One of the best books I have ever read!
Thank you Eva for being a StoryLinks Junior Reviewer