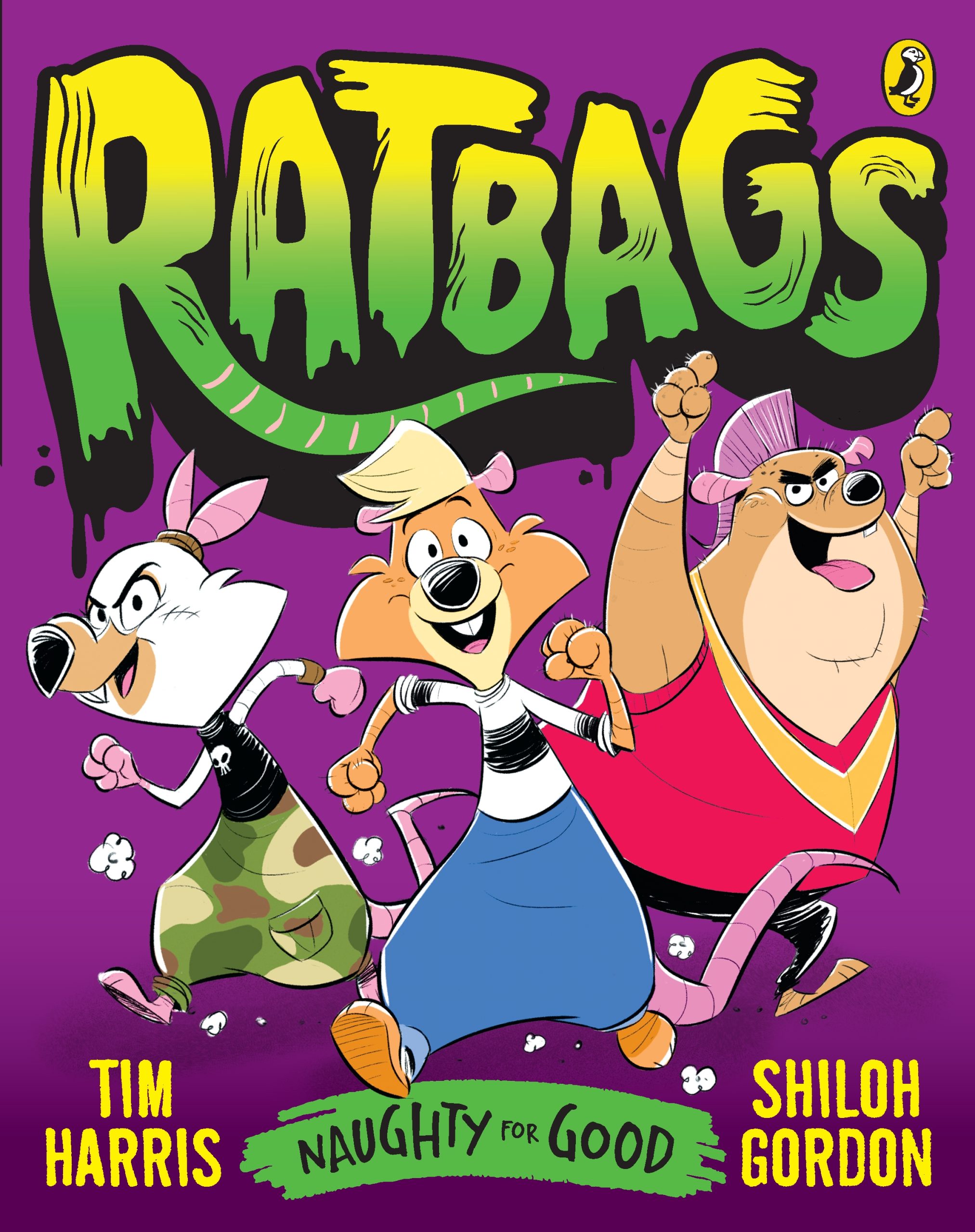 Ratbags 1: Naughty for Good
By Tim Harris and Shiloh Gordan
Let's face it — rats are mischief. Rats are rule-breakers. Rats are ratbags. They're all the same. All, that is, except one… When Jigsaw runs into two of the most ratbaggy Ratbags known to rats, his orderly world is turned upside down and he pulls off one of the best pizza heists EVER! Will his newfound pizza obsession make Jigsaw the naughtiest Ratbag yet? Or will Jigsaw figure out how to be naughty — for good?!
Reviewed by Eva B, aged 8.
Eva likes the Baby Sitters Club and Diary of a Wimpy Kid and doing gymnastics.
Who is your favourite character? My favourite character is Jigsaw because he is the only good rat. Jigsaw likes humans and rules, but the other rats don't. I also like Jigsaw's morning routine. He plays piano for exactly 30 minutes, he dusts his bookshelf and he makes his bed.
What was the most interesting/exciting/suspenseful moment in the story?

The most exciting part was when Crackers the cat slammed his claw onto Jigsaw's tail. It seemed like Crackers was going to get Jigsaw, but his friends slingshot a bottle cork at Crackers and he went away.
Did this story make you laugh/cry/ throw it across the room?

It made me laugh when Jigsaw was practicing the piano and he said "This note is a bit sharp!"
Would you have changed anything in the story and why?

No because it is good already.
To whom would you recommend this book?

Probably from ages four to seven.
 Is there anything else you want to say about this book?

For example, did you like the illustrations?

 I like the illustrations because the rats are cute. Crackers the cat looks scary though!
 How many hearts out of five?

  ♥ ♥ ♥ ♥ A great book, I recommend it
♥ = Didn't finish it
♥ ♥ = Ok, but not for me
♥ ♥ ♥ = I enjoyed this
♥ ♥ ♥ ♥ A great book, I recommend it
♥ ♥ ♥ ♥ ♥ One of the best books I have ever read!
Thank you EVA for being a StoryLinks Junior Reviewer